2000 the angel hymm

Occasionally I will make a display only costume for one of my costume shows at the Community Arts Center of Cambria County in Johnstown, PA. This was the case of the Angel Hymm for my Fabric Fantasies show there in September 2000.

I collected materials for this costume for several years, throwing the stuff in a couple of shopping bags. When I got the bags out to begin the costume, I wondered why I had gotten some of the things in them. But I wound up using just about everything, with the exception of some fiber optics Christmas lights. (I have yet to make a light-up costume.)

The angel was a huge project and one I very much enjoyed working on. As a display piece, I could do a number of things on it that I couldn't do on a wearable costume, such as the huge trapunto hem, six gigantic net wings, all kinds of drapey things over the outstretched arm, and the half-moon halo which was held on with gold spikes stuck in the mannequin's styrofoam head. The extended arm with its hanging drapes was so heavy that the entire mannequin listed to that side and I was afraid it would fall over. My father finally bolted the mannequin body to its stand and put 40 pounds of bagged bird seed on the base underneath to steady it.

2000 titania

Cripes, doesn't every costumer have to do Titania eventually? I made this outfit for an SCA event the theme of which was dress as your favorite Shakespearean character. The fabric was crinkle cotton that I spritzed with several colors of RIT dye then washed.

The wings were bent wire with sparkle sheer stretched and stitched to the edges, then decorated with sequins, paillettes and large acrylic rhinestones. The gold wing veins and curls were lines of glue I laid down and sprinkled with glitter. Took a lot of glitter. The wings were held on by the decorated straps crisscrossing my chest.

The crown headpiece and shoulder epaulets were the most fun to make with all the hanging pearls, beads, findings, brooches and yes, Christmas decorations. Since the original Iron Orchid, all my fancy headpieces have had at least one Christmas decoration in them somewhere. As you can imagine, I scour the post-season sales.

2000 HALLOWEEN COSTUME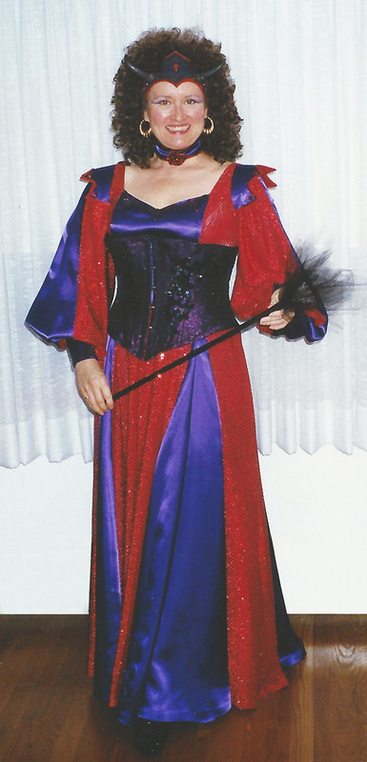 Karen Schnaubelt gave me instructions on how to make easy and beautiful corsets, and this was my first attempt. I also got her permission to copy a bi-colored gown she'd designed to make this costume for Halloween entitled "Devil in the Red and Purple Dress." The materials were purple satin and red sequin dot. I added a horned headband, fluffy wand, neckband and curly wig.


---
2009 CostumeCon 27, Baltimore, MD
queen of atlantis

I hadn't been to a science fiction convention for 14 years, or competed in any masquerade or fashion show for 21 years, but in 2008 Karen Schnaubelt convinced me to get involved again. She was in charge of the Fashion Folio for CostumeCon 27 and asked me to help judge the designs, a job I had very much enjoyed in the past. And this gave me the opportunity to choose a design to make. I picked the Alison Kondo/Fran Evans "Queen of Atlantis." This was the first time I'd made up a design that was not my own and it was a lot of fun interpreting someone else's ideas and translating such into fabric. Though I kept doing things, not liking them, tearing them apart and doing them again. (Karen called it the Alison Kondo effect—stuff that looked really simple in the sketch actually turned out to be pretty complicated in the reality of fabric.)

I used machine embroidery for the first time on a costume and also drew on techniques I'd learned from my years of historical costuming, such as building a supportasse for the huge collar.


I learned new skills as well, as in making yo-yos for the cuffs and headpiece to represent sea anemones. For the beaded netting overlay on the top skirt, I used vintage beads-on-a-string (the kind we used to hang in doorways), pinned them on a template I'd made, then tied them together where they crossed. Took eight hours, but it looked exactly like the design sketch. I won Best in Show in the Fashion Show.


drape me lacy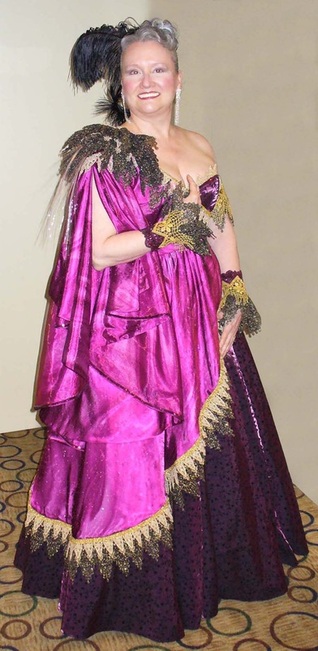 I also made an entry for the Single Pattern Contest, using the McCall's 4497 medievaloid gown pattern. My idea originally started out as a quasi-Erté with a sleeve on one side which draped around the back to hang off the other arm, and a one shouldered gown with a bust-high half-gown and skirt showing on the left side. But after days of work, it just wasn't coming together and I scrapped it. As I was trying to figure out something else, I took the rejected Erté sleeve and pinned it on the mannequin upside down—and liked what I saw. The part which had hung over the back of the skirt now hung in attractive draping down the arm, looked much more graceful and didn't cover up the back of the gown. I reconfigured the entire outfit with a corset, one shouldered half gown and underskirt.

Having never entered the Single Pattern Contest before, I thought the idea was to start with the given pattern and morph it totally into one's own, which I did. I didn't realize that the original pattern was supposed to still be recognizable. But "Drape Me Lacy" won the Paradigm Shift award in the contest, which told me the judges realized where my thought processes had been going.

The fabrics were a flocked dark burgundy for the skirt and corset, vibrant mottled burgundy for the half-gown and sleeve, and several dozen yards of both bright gold and black/gold lace.

---
2011 costumecon 29, Hasbrouck Heights, NJ
The Idle Rich Matron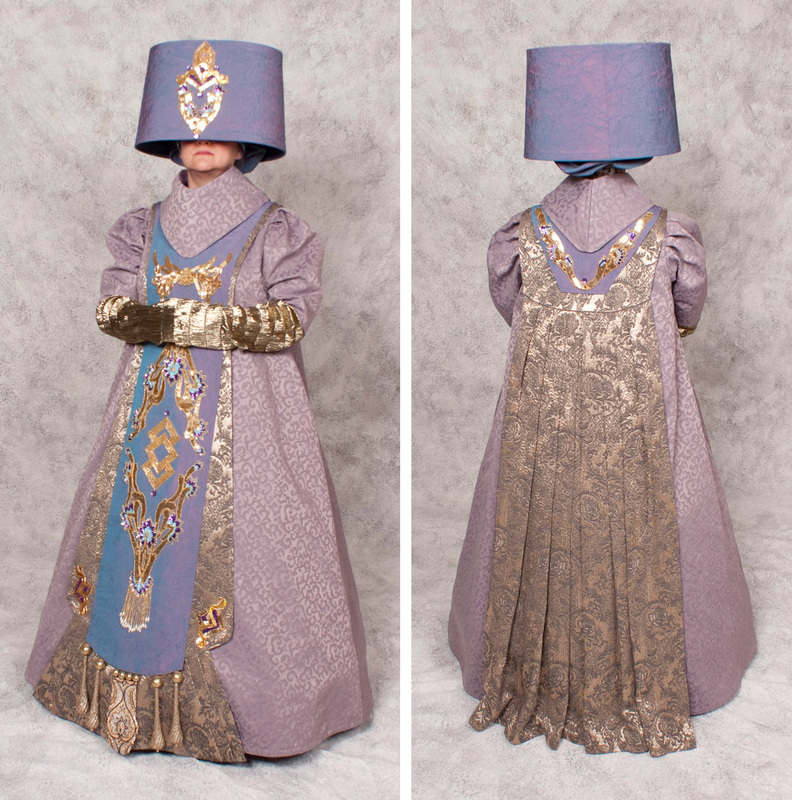 For the Fashion Show I made Sandy and Pierre Pettinger's design, "The Idle Rich Matron." This was a fun and relatively simple costume to make, consisting of an A-line gown with leg-o-mutton sleeves, a tabard, a stiff collar and a headpiece. I purchased a dozen sequin and rhinestone appliqués for the tabard and headpiece, cut them apart and reconfigured them to match the design sketch. My foresleeves, which appeared to be one piece, actually split apart in the middle for safety and were held together with bits of Velcro. And yes, the hat is exactly what it appears to be—a round lampshade that I squashed into an oval and covered with fabric and glitz. The costume won Best by a Non-Designer in the Fashion Show.

dawn and dusk

Karen Schnaubelt and I had wanted to do a costume entry together for years and settled on CostumeCon 29 as the time and place. We started designing the costume in November 2010. It was mostly my design with her suggestions and input. I had originally been thinking about a Ziegfield Follies type design to go along with the Broadway theme of the convention, then that segued into something Erté-ish, then it morphed into its own creation.

I wanted the costumes layered and very detailed. And although my sketches came out decent, I agreed with Karen in that the complexity of my costume designs had surpassed my ability to draw them. The costumes were to be identical, except for color (purple for me, orange for her), so it was decided that I would make both outfits and Karen would make the beaded bits.

Each costume consisted of 10 separate pieces including undergown, jacket, skirt, headpiece, belt, two sleeves, two sashes and the parasol we pulled from one sleeve for the finale. There were also 10 different fabrics and oodles of trim on each costume, including 60 yards of glitz velvet ribbon apiece. I redesigned a machine embroidery motif I'd purchased and dyed pearls purple and orange with RIT. I even made the tassels at the ends of our sleeves. As our veils were Velcro-attached at the beginning of the presentation, I designed our headpieces with holes in the backs through which we pulled and braided our hair to firmly anchor the headpieces to our heads. The gold halos on each headpiece were placemats I found at a local bed and bath shop.

We re-beaded purchased trim to make it more lush and Karen designed and hand-beaded the belt pieces, including the ropes that drape from them. Between the two of us, we figured we had about 400 hours in the outfits. We used an instrumental version of Madonna's "Vogue" for our music, and I procured a dance studio for us to practice our routine in front of mirrors.

Though Karen was concerned that the outfits were a bit too "old school" for today's CostumeCon competitions, I was not worried. They were incredibly beautiful and I considered them the most couture costumes I'd ever made. Though I never go into a masquerade competition expecting to win, I was certain that "Dawn and Dusk" would come out with something. And apparently the judges agreed, for we won Best in Class, Master and Best in Show Workmanship.

2012 costumecon 30, phoenix, AZ
The court of jewels

Not since CostumeCon 5 had I sketched designs the Future Fashion Folio, but for the 30th anniversary of CostumeCon I decided to come out of woodwork and give it a try again. I had been very inspired by Fran Evan's and Allison Kondo's "Carnival of Masks and Mirrors" a couple of years previously and wanted to do my own suite of designs, which turned into seven sketches which I titled "The Court of Jewels," all of which won.

I designed the Empress specifically to use the turquoise and silver fabrics and trims I'd been collecting for a couple of years. Materials included several kinds of brocade (including vintage from my stash), micro-pleated, Dupioni silk, silver tissue, sparkle sheer and all-over lace. Trims included silver chain, acrylic rhinestones, glitz velvet, lace, brooches, hanging beads, jacquard, sequins and scrapbooking embellishments. As I knew the headpiece



half of everything


would have to break down to pack, I'd designed it with that thought in mind and made certain the front wing piece would fit comfortably into my largest suitcase.

Sandy and Pierre Pettinger also made designs from the Jewels suite, "The Sibyl" and "The Consort-Protector," and our stage presentation featured all three of us in a nice bit of walk-around choreographed by Nora Mai. "The Empress" won Best in Show in the Fashion Show.



hall costume

I entered the Single Pattern contest again and, having learned from my entry at CostumeCon 27, made certain that my costume looked a bit more like the pattern. The three patterns of choice were a kimono, a chef's ensemble and gloves. I originally chose the kimono, but of course I couldn't make it exactly like the pattern. I made a one-shoulder half-kimono, using a beautiful oriental print I'd gotten in New Jersey after CostumeCon 29. I also made a long, A-line, slim sleeve gown for underneath using the purple mottled cotton I'd originally purchased for Dusk the previous year (but didn't like for that costume once I'd gotten it), and an obi-type belt to tie it all together.

But the outfit didn't look quite finished so I purchased the other two patterns in the contest. I made the poofy chef's hat out of purple tissue and glitz, then rearranged it and decorated it with chopsticks, flowers, doodads and gold ribbon curls. Also fashioned the chef's kerchief into a little embroidered drawstring bag. Using the glove pattern, I made fingerless gloves from a stretch sequin net and applied freestanding embroidered lace butterflies at the wrists. When I faced the judges, I told them that I couldn't decide on which pattern to use so I did "Half of Everything"! They renamed the outfit "Balance" and awarded me Best Kimono in the Single Pattern contest.

To make the outfit do double duty, I made another overgown, an open front robe, to wear over the undergown as a hall costume.


steampunk hall costume

| | |
| --- | --- |
| Since the convention had a steampunk theme, I naturally had to do a steampunk hall costume. The fabrics for that came almost entirely from stash, except for the skirt. The costume consisted of a long skirt, long line Victorian corset, ruffled bolero, top hat and several pieces of jewelry. I made most of the jewelry, including the watch band and three pins: a large cat's head brooch and a chatelaine with a satellite pin connected by chains. I ordered the winged bracelet from a shop in Cyprus that I'd found online. This costume garnered me a special hall costume award. | |