glaceglitter hall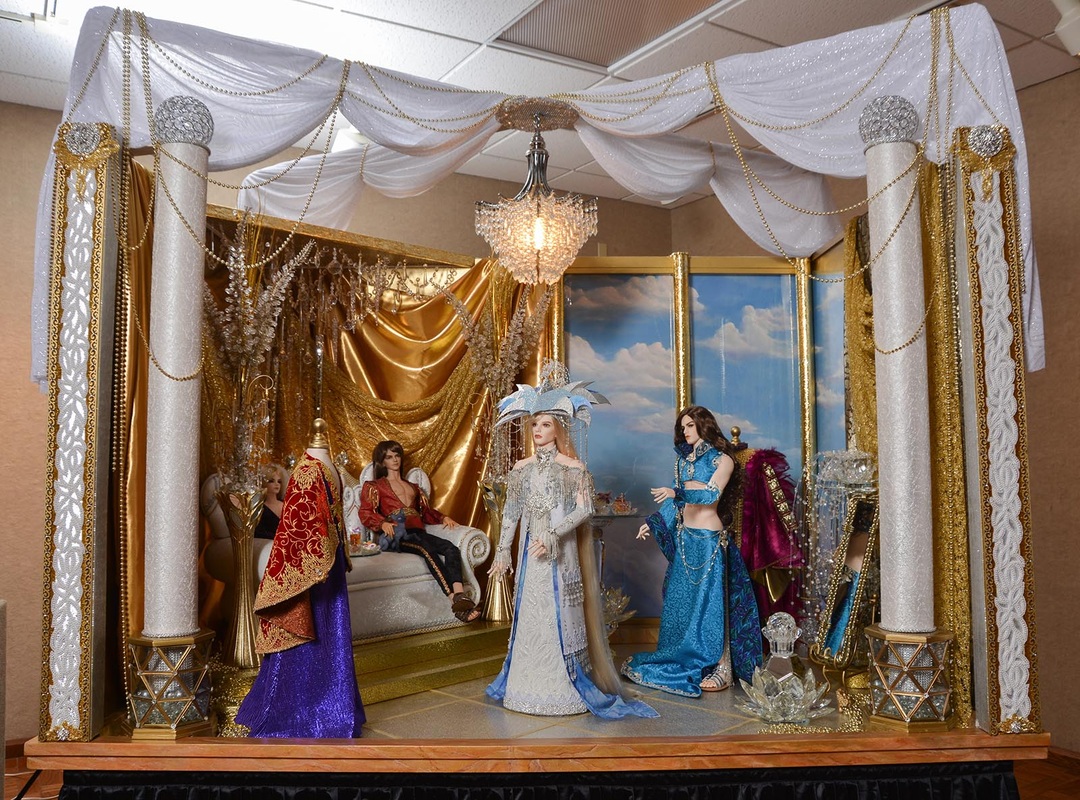 Glaceglitter Hall, a grand venue from my my second novel Gods of Crystal, Gods of Dreams, is a fantasy of gold, silver and crystal. A crystal chandelier hangs from supports above the set, textured ceiling panels over glitter paper cover the floor, golden satin and brocade fabrics drape the walls. Cliff made windows from PVC pipe and plexiglass and painted blue sky and white fluffy clouds behind them. He also created faux marble with his talented brushwork. I hung crystals and drops, draped fabrics and ropes of beads, and created sculptures from glass candle holders, mirrors, beaded spays and jewelry bits. The couch is my design, translated into reality by Carol Ley from Florida, who also made chairs for Victorian Fantasies and the Black Butler vignette.

The story: Glaceglitter is the main entertainment hall at the Lallourean citadel of Bir Halake, well known for the varied crystals produced from the miles of mines below its lands. M'pelanae H'non is the telepathic and spiritual leader of Bir Halake and is very fond of fancy clothing and costumes. Losellein, a costume designer, and D'lyr, head of the sewing division, are visitors from the citadel of Darclonen and have brought gifts of clothing for M'pelanae H'non. M'pelanae is very pleased, especially with the crystal and bead encrusted costume complete with winged headpiece. Two mannequins display a ceremonial feathered outfit and an evening ensemble of a long pleated gown with attached velvet cape. While M'pelanae preens, Losellein reaches out to disentangle some beads caught in the H'non's floor length hair. Diminutive blond D'lyr and dark haired Bredes enjoy the fashion show from the comfort of the huge decorated couch/throne under a canopy of hanging crystals. Even the cat E'chantrelle is fascinated by the display.

Left side of set from where D'lyr, Bredes and E'chantrelle watch the fashion show.

Chandelier drops, crystal garland and Christmas decorations suspended from a piece of aluminum grill make up the crystal canopy corner. Cliff made a standing frame for this piece so I could hang all the pieces, which took about six hours.


Right side of set. The crystal sculptures in the back and foreground are various candle holders, perfume bottles, floral sprays, mirrors, rhinestone pins and trims mostly held together with large reusable glue dots. The large columns are covered in textured faux leather which was glitter sprayed. These columns rest on decorative glass boxes filled with glass beads and silver balls.

Another view of the right side showing the standing mirror and weeping crystal sculpture. This set has the lengthiest set up time due to all the fabric draping.
Bredes (Iplehouse SID Eric). I love the expression, sort of a smirk, which is very Bredes. I purchased the doll secondhand for the sculpt, so had no choice on the skin color. I wasn't certain about the darker shade at first until I realized that nowhere in three books did I ever say specifically what color skin Bredes had. With its long, dark straight hair, I decided I rather liked the darker skin.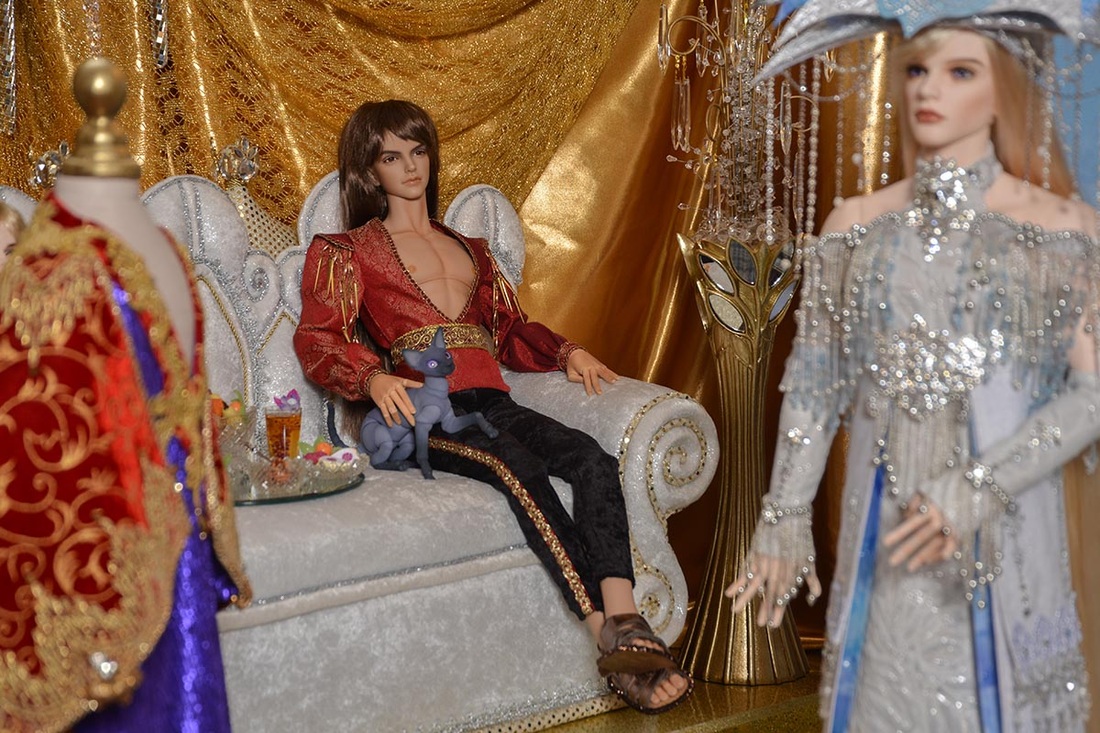 Two views of the couch/throne area. I added the crystal crowns on the points of the couch using statement necklace pieces from a craft store.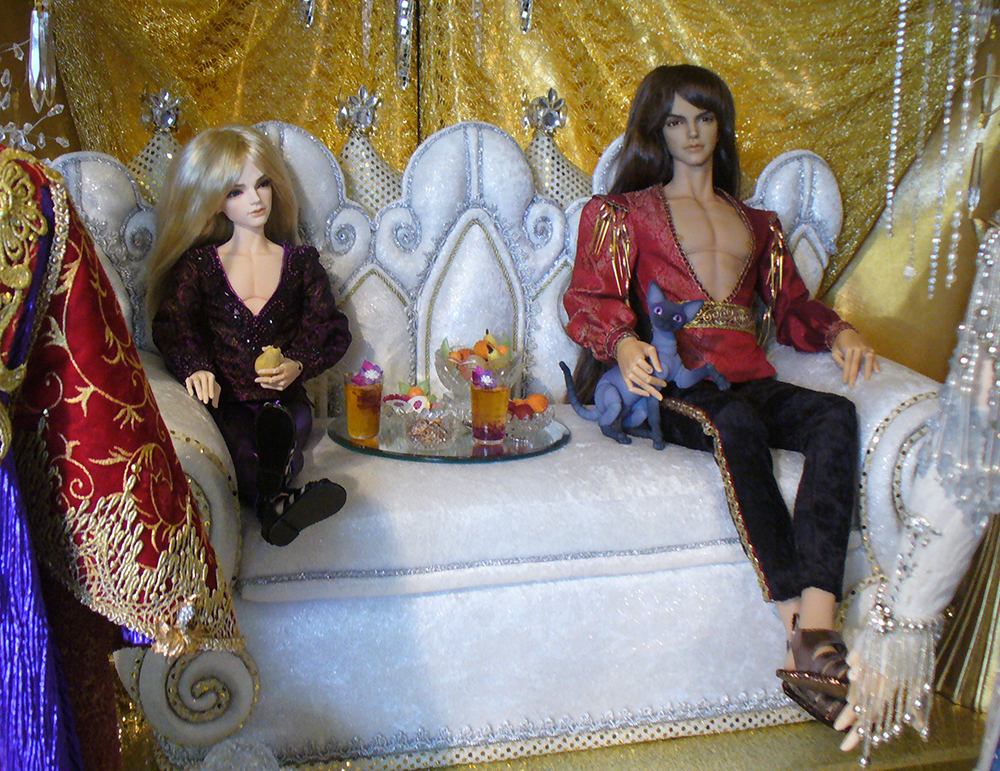 E'chantrelle, the lavender-eyed cat is a fully articulated, 3-D printed Siamese BJD by

Eve Studio

of Russia. 3-D printing creates a very lightweight doll.

The spire decorations on either side of the couch/throne were put together using tall gold and mirrored candle holders, Christmas decoration holders (the curly bits), various crystals, floral picks and crystal foxglove sprays.

D'lyr (Iplehouse JID Boris) is the smallest Iplehouse doll I own. Though quite tiny, D'lyr is an adult Lalloure around 250 years old.


Bredes' outfit is a typical endday ensemble, a double crossover tunic with a deep chest V, fancy belt and hanging metal shoulder decorations. The tunic is silk and cotton, the belt a bit of trim with scrapbooking brads on top. The pants are stretch velour which represent bosed fur. The sandals are newborn infant shoes that I took apart and cut down to fit.


D'lyr's tunic is India silk brocade trimmed in beaded lace. The leggings are stretch spandex with a bit of beaded trim on the bottoms. D'lyr wears doll sandals that I resized to fit.
The Lallourean fruits include pells, raddleberries, orins, glisberries, sweetstars plus candied nuts. Their drink of choice is berriae, a fruity beverage, garnished with flowers. All foodstuffs (except the drinks) were commissioned from

Cindy Teh

of Singapore and

Katie Baker

of Cleveland, OH.

Another crystal sculpture put together from a lotus flower candle holder, mirrored table decoration, votive holder and the upside down base of a perfume bottle.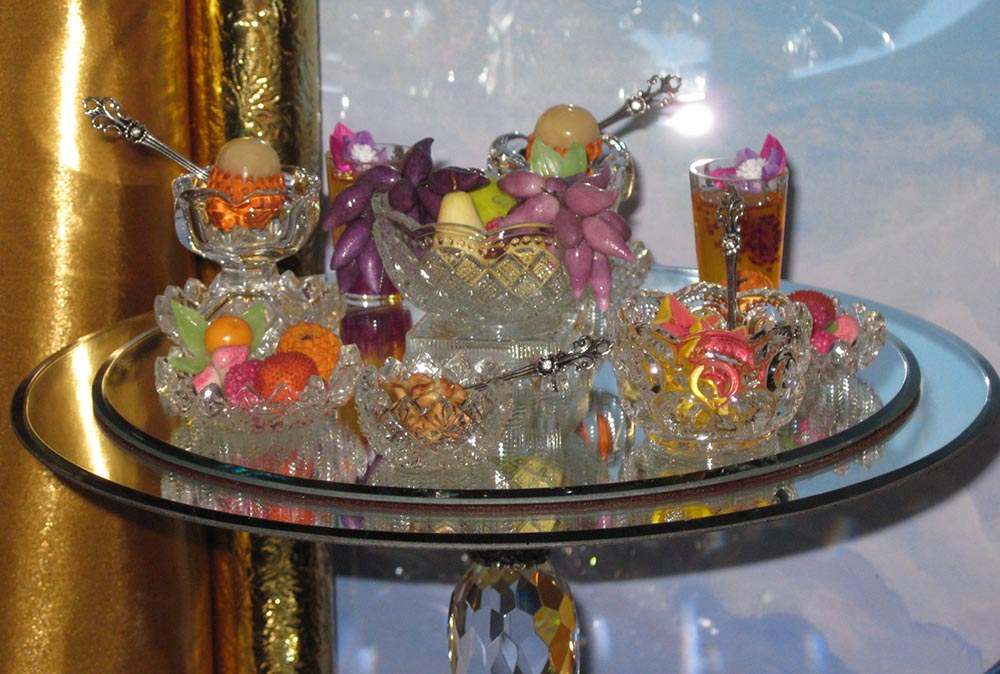 More Lallourean delicacies. The dishes are antique pressed glass salt cellars found at local antique stores. The silver spoons are jewelry findings.
M'pelanae H'non in the cold shoulder gown. The sculpt is Iplehouse EID Akando. A photo of Akando's face was the very first BJD I saw online in my Facebook feed. Whoever posted it is responsible for my involvement in ball jointed dolls.

Back view of the gown and headpiece. The wig is a special commission from

Amadiz

wigs.

The headpiece is decorated in silver chains, hanging rhinestones and pearls. The swirly rhinestones motifs on the headpiece and gown are scrapbooking stickers.

A view of the gown in the standing mirror.

The cold shoulder gown consists of six layers: undergown, mottled blue sheer drape and train, two quilting cotton panels, belt and beaded shoulder cape. The winged headpiece is made of buckram, cardboard, fabric and trimmings, just like my full size headpieces.

Side view of the cold shoulder gown on the Glaceglitter set.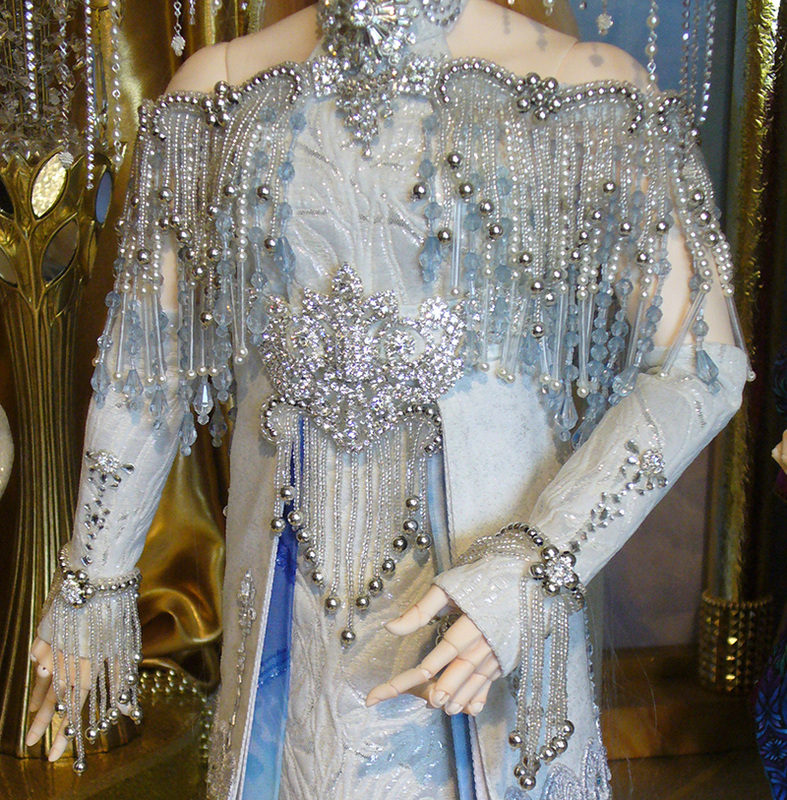 Cold shoulder closeup. As I love piling on costuming details, I decorated this outfit with hanging beaded trims, rhinestone buttons and appliques and several kinds of silver lace.
The caped evening ensemble. This costume appears in my second novel as the reversed color gowns M'pelanae and Vilian wear for their dinner together.

A ceremonial feathered costume comprised of an underskirt of crushed velvet and an over tunic of moire satin with lame lined hanging sleeves and crushed lame garment sleeves enhanced with velvet ribbon and gold trim. Feathers edge the chasuble which features heavily beaded and sequinned India trim.

The feathered costume on the set.

Losellein wearing the teal outfit originally intended for M'pelanae until I came up with the cold shoulder gown. The crop top, gauntlet sleeve and sarong skirt are polyester damask lined in a printed quilting cotton. Silver trim, chains, rhinestone brooches, small aqua cabochons and hanging silver beads trim the costume. The silver sandals are infant shoes. As Iplehouse EID feet are purposely large for standing stability, I did not need to cut these down.

Back of the caped gown. Fabrics are pleated purple polyester and gold embossed red velvet trimmed in gold lace and aurum rhinestones.

Front detail. The lace motifs front and back are yoke pieces cut apart and rearranged.


Three rocaille beaded bracelets create the necklace and bib.

Back view of the feathered costume. The fancy trim originally had large lavender acrylic gemstones in the middle of each sequin motif. I replaced these with small rhinestone buttons.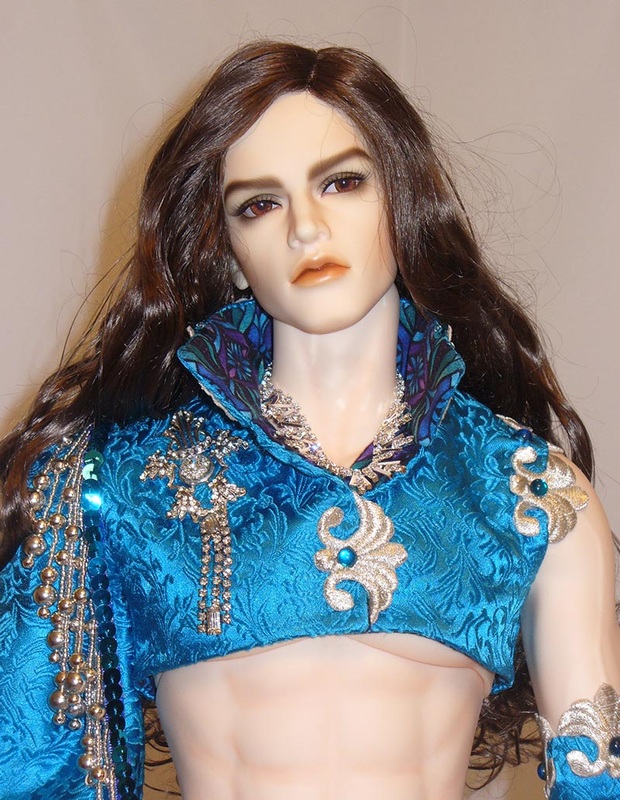 The sculpt is Iplehouse EID Kamau: gorgeous, strong jawed and sensual, making it, in my mind, quintessential Lalloure.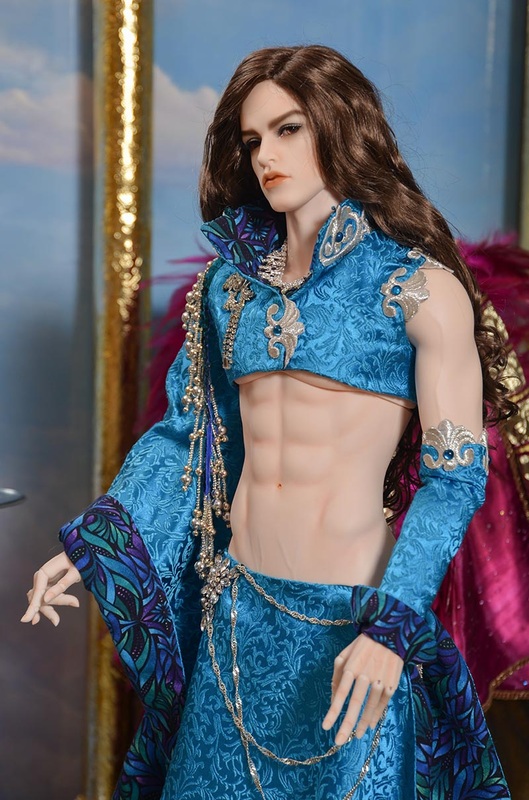 I blushed the body and hands on this doll using watercolor pencil dust appled with small make-up brushes.