1973 Equicon, Los Angeles, CA
Gowns for Kelly and tonn

A big fan of Star Trek, the Original Series, this was the first Star Trek convention I'd heard of. Bjo Trimble had sent out fliers for the convention using Lincoln Enterprises' (Gene Roddenberry's mail-order house for ST memorabilia) mailing list. The convention was having a fashion design contest and my friend Pam Faint said, "You can draw, you should enter." I did four designs, two of which won and were made up by other people. (I did not sew at the time.) I named the gowns after characters in the Star Trek fan fiction Pam and I were writing at the time: the pink gown was "Kelly's Dress" (modeled by Jill Freigher) and the purple one "Tonn's Dress" (modeled by Terri Bryant and made, I was told, by a local movie studio seamstress). Pam and I attended the convention and we were hooked on SF fandom forevermore.


1974 equicon, los angeles, ca
Seeing the writing on the wall, my mother had gotten me a sewing machine for Christmas in 1973, telling me that she was not interested in making my costumes (though she did make Pam and me blue velveteen Star Trek uniforms for Equicon 1974). I made both the lavender gown, entitled "Luna Lady" and the pink gown, "Formal Coronation Gown," which were fashion show design winners. Luna Lady was split from shoulder to hem and laced up the front. We were so worried about Pam's nipple peeking out that I stitched the seam together over her breast. So of course at the convention there were totally nude women parading around. My pink gown was backless—the front stayed in place from the weight of the cape. We also wore these costumes for the masquerade (which would be completely taboo today), and the Coronation Gown won Most Beautiful.


1975 Equicon, San Diego, CA

romulan commander Anzaya seer

I was a prolific fashion design folio contributor for the yearly Equicon conventions and many of my designs always won. The Simon and Jaelithe Tregarth characters are from Andre Norton's Witch World novels, worn here by Terry Adamski and author Katherine Kurtz. I am pretty sure Katherine made the two outfits. The wedding gown surprised me when I saw it at the fashion show, because I certainly had not pictured it in mint green. (Model and seamstress unknown.) My blue and gold bare mid-riff gown was titled "Romulan Commander" and Pam's orange, green and brown ensemble, "Anzaya Seer." (Pam has been mistakenly identified as Kathleen Skye-Goldin in some photos of this costume.) Pam did the embroidery on the left side bodice of my gown, which was made of crepe-back satin and a rich metallic brocade. Pam's outfit was sturdy double knit, a common fabric in the 1970's.

1976 equicon/filmcon, los angeles, ca
The duchess of the admiralty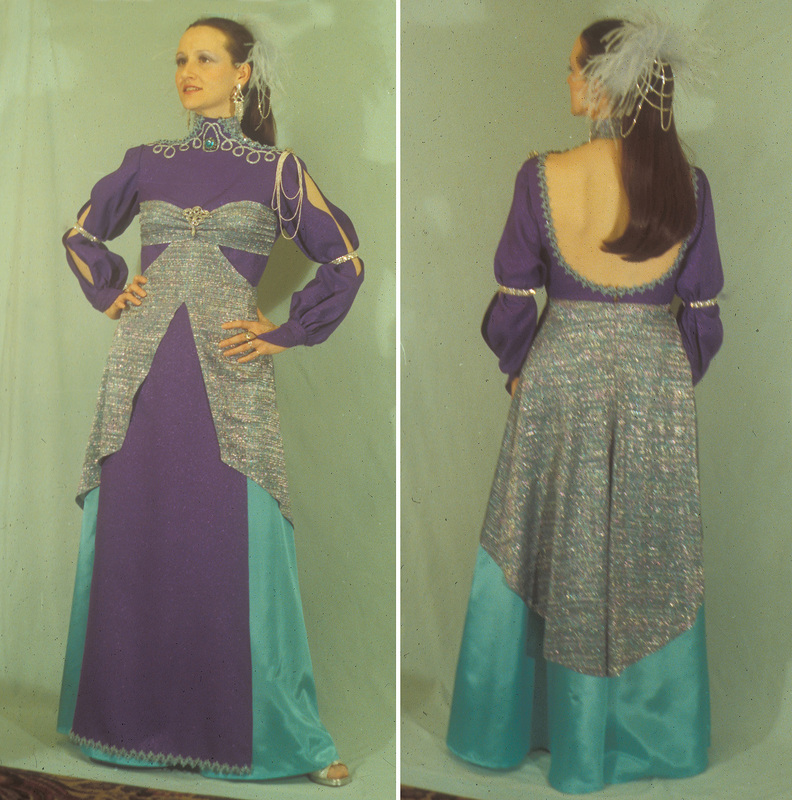 Another fashion show winner, my purple crepe, turquoise satin and shimmery brocade gown "Duchess of the Admiralty" was a very well-liked design. A lady came up to me after the fashion show and gushed, telling me that when she got married she wanted to use this design. And then author Andy Offutt asked if he could use the gown in one of his books and I said yes, of course.

A description subsequently appeared in his paperback novel "Conan the Mercenary," published in 1980: Her attire was magnificent. Broidery of cloth-of-gold flowed inward from her shoulders in arabesque loops to the high collar of her bodice of mauve velvet, and up onto the high, stiffened collar. Bare round arms flashed from sleeves slashed from shoulder to wrist; each was cleverly caught just above the elbow by a few stitches and encircling bands of beaten gold. Thence each sleeve flowed down into a tight cuff that descended in points to the backs of her hands. Ending in loops, the points were secured to the bases of her middle fingers, so that she seemed to be wearing matching rings of red violet. Below swept many yards of shimmering satin the color of ice seen through turquoise. Over it the mauve bodice continued downward in a broad central panel. This fell to the skirt's hem, where it was purfled in silver in the Finquese style of Bakhaurus. A bandeau of scintillant cloth-of-silver circled the bodice over the bosom, sewn there and clasped with an ornate pin of shells and pearl and silver wire. From this outer bandeau draped a sort of third skirt, long behind; in front it formed a deep, inverted V whose arms flowed down the queen's legs and thighs like folded wings of mesh mail.

Andy must have gotten paid by the word. And I loved the oblique "Finquese" credit!


star fleet dress uniform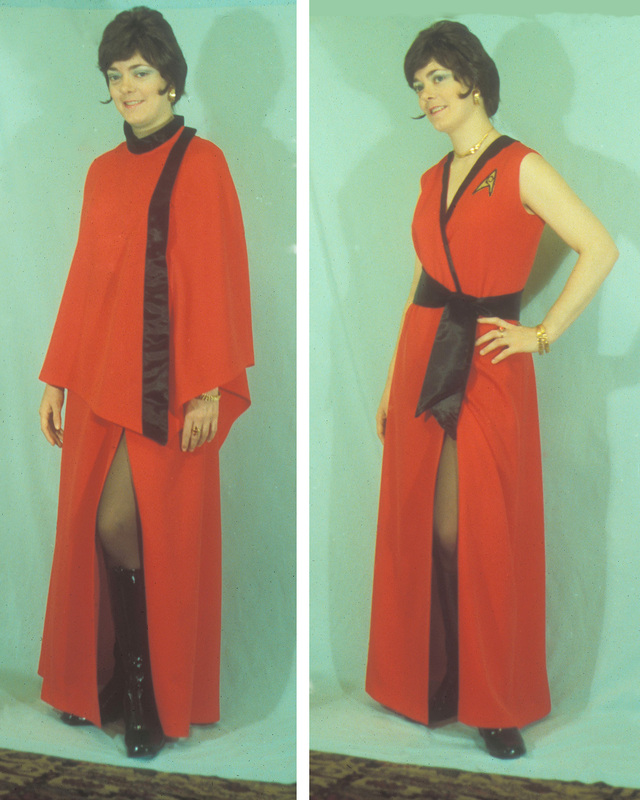 More double knit fabric for Pam's red gown and over-cape "Starfleet Dress Uniform" outfit. Trimmed in black satin with an Enterprise Engineering/Security/Red Shirt insignia. Why we chose that color—red—I haven't a clue. Pam's favorite color has always been blue, she was a nurse at the time, and her favorite character on ST:TOS has always been Dr. McCoy. Maybe I couldn't find blue double knit fabric.

corwin of amber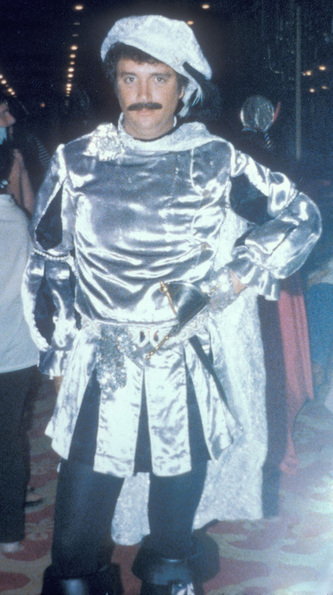 Another of my fashion show designs, a character from Roger Zelazny's "Nine Princes in Amber." Modeled by author David Gerrold ("The Trouble with Tribbles"). (Seamstress unknown.) Appears to be made of silver stretch velour.




---
The queen of dawn and twilight wings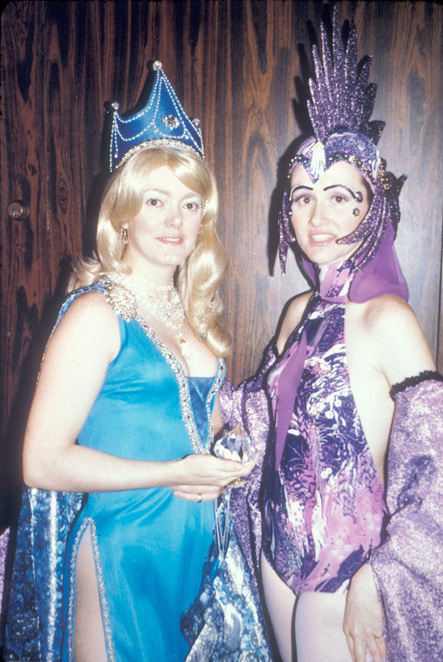 I had originally made these costumes for Discon II, the 1974 worldcon held in Washington, DC. At that time they bore the unwieldy title of "The Trondor Pravis Lonalee, Protector of the Guardian of the Jewel of Power, Galiena, Mistress of Shul," egad. These were my very first worldcon masquerade entries and while they didn't win, Pam and I were encouraged by the judges to try again.

I revamped them for Equicon 1976 and we won Most Beautiful in the Fantasy and Science Fiction Masquerade. This was my first big headpiece made from a buckram base and cardboard covered in glitzy fabric (in this case a very shiny, loosely woven fabric called sand, unfortunately no longer made). Still using knits, both for my bodysuit and Pam's turquoise blue gown. Her crown is also cardboard covered in fabric and trim.

---
1976 midamericon, kansas city, mo
Zoe and Saffron

Zoe and Saffron were taken from Thomas Burnett Swan's "Forest of Forever," illustrated by George Barr.

I wore the queen bee outfit "Saffron," very simple as per the description in the book, a micro-mini tunic of fake fur. This was my first attempt at large wings. My father, a machinist, constructed steel rod (!) frames and a harness with a back plate that the wings screwed into. I stretched fabric between the frames, then glue-appliqued sparkle sheer orange, yellow and beige cutouts on top, and glued black sequins between them. As the wings were very heavy, they had to be secured by wires to the harness at the shoulders.

Pam wore the green dryad costume "Zoe," a green single knit undergown covered by a stretch sheer green overgown and a gorgeous mottled green and blue chiffon drape/cape. Her headpiece was sparkle sheer chiffon oak leaves, which she painstakingly cut out by hand. We had purchased a long white wig which we hand dyed green with food coloring, which subsequently turned Pam's skin green when she perspired.

We were finalists in the masquerade but didn't win. I was told my wing construction wasn't up to par, i.e., the shoulder wires were too visible.
1977 suncon, Miami, Fl
black and white magic

| | |
| --- | --- |
| | For "Black and White Magic" I did not want to do a witch type costume to depict the evil side of magic and came up with an idea based on a spider instead. The spider web hanging from my left arm was silver sequins glued on black sheer; the one-shouldered gown was a shiny black stretch knit. And another buckram and cardboard headpiece with yard-long fringe in the back. Pam's gown was white crepe-back satin with brocade insets and a silver tissue lamé cape edged in marabou feathers. Her wand was a spiky, plastic candle holder with a plastic candle stuck in it and held upside down. My staff was screw-together table legs from the hardware store and a glass globe light cover which I glittered on the inside. This was in the days when we really had to innovate as far as props. The costumes won Judges' Choice in the masquerade. Finally a winner, yay! |
1978 Iguanacon, Phoenix, AZ
Beauty and the Beast

Pam and I loved the artwork of George Barr, who had illustrated numerous book covers, and had gotten his book "Upon the Winds of Yesterday" (published 1976). One of the paintings in that book was titled "Beauty and the Beast" and we decided to recreate the costumes. Our friend Sandy Cohen owned the original artwork and promised to bring the framed painting to Iquanacon as documentation for our entry.

My most ambitious costumes to date, these outfits were over two years in the planning and three months of solid work. I was not capable of doing wood carving nor latex work, so had the Beast's mask made by latex artist Diane Hammond of Washington, DC, the horns carved by Dave Stevens of Maryland and the baroque pearls crafted by Jack Roseman, a local friend. Pam made both tiny crowns for the costumes and helped me with the decorations on the Beast's collar and robe, much of which were felt cutouts. Fran Evans applied the latex mask, the beard and the rest of the Beast's makeup, which took four hours in our hotel room. Once Pam stood up and donned the entire costume, she did not sit or use the bathroom again until after the masquerade was over and we got back to the room at 2:00 am—eight hours total.

Pam's black robe and my green bodice were both velvet, and we had to walk in 100+ degree heat from the hotel to the masquerade venue, an auditorium a couple of blocks away. Plus I was wearing synthetic satin and fake fur. But it was totally worth it as we won Honorable Mention for Workmanship, First Place Fantasy and Grand Champion Contestants' Choice! I finally felt I had arrived as a costumer.


1979 Seacon, Brighton, England
Cutter and Leetah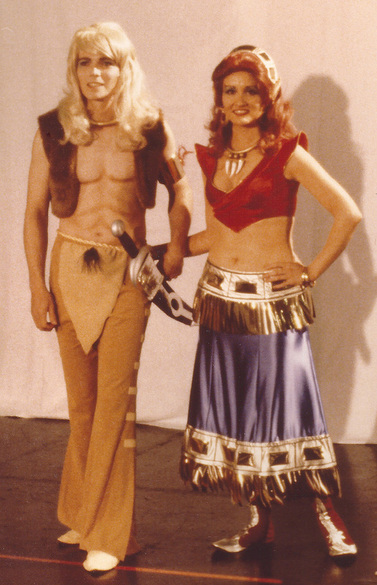 I met George Paczolt in the spring of 1978, and we had subsequently attended a number of local conventions together, plus had gotten pretty serious about one another. I'd made or cobbled together hall-type costumes for the local conventions we'd attended, but these were the first full-fledged competition costumes I made for us.

We both loved Wendy Pini's "Elfquest" comic series (and had met Wendy herself several times) and decided to do the main characters "Cutter and Leetah" for the competition. They weren't complicated costumes and I knew they'd pack easily for the trip to England. I had Cutter's sword and Leetah's necklace claws carved by a friend, and my father made their metal necklaces from steel tubing painted gold.

George's impressive abs were accomplished with make-up as was my cleavage. Our background music was a tape of Wendy Pini singing the Wolfsong, the words of which had appeared in one of the early Elfquest comics. The costumes won Best Fantasy.

---