1983 costumecon 1, san diego, ca

tassel dress


Inspired by Erté, "Tassel Dress" was a fashion show design winner, though I should have used something besides the turquoise tissue which did not drape quite as nicely as I would have liked. Kathy Bushman-Sanders later did a black and gold hall costume version of this design (with my permission) using black knit for the drapings and her rendition looked much better.

evening wear


Karen Schnaubelt made my 1983 CostumeCon design mundanely titled "Evening Wear." Her interpretation was anything but mundane, however. Many of my fashion show designs had been made up by other people over the years, but this was the first time one had been made so exactingly like my original sketch.


Karen and I had been competitors and adversaries for a decade or more. After seeing this gown, my feelings ameliorated somewhat toward her and we went on to become very good friends.
two-way gown

Also from the 1983 CostumeCon Fashion Folio, this design was interpreted and created by Astrid Anderson. Another outfit based on an Erté design, I had pictured the gown on a less statuesque figure. Having never heard of Hollywood Tape at this point, I remember being deathly scared that Astrid was going to experience a rather disastrous wardrobe malfunction as she walked the runway.



crystal singer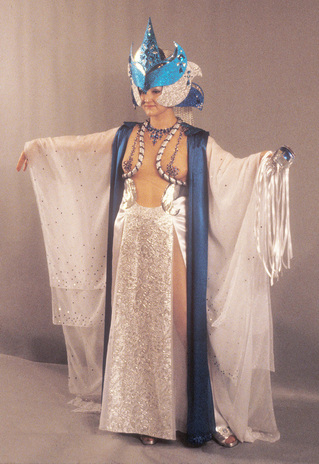 "Crystal Singer" from one of Anne McCaffrey's books. I was becoming too enamored of the sheer front costume and this was not my best effort. Lots of strategically placed rhinestones and a lot of drapey white chiffon, but not much design. Only really interesting thing about it was the decorated strobe light that I hid under one sleeve and pulled out to flash at a crescendo in the music. Still, the outfit won Best Science Fiction, Master Class in the masquerade.


---
1984 lacon, anaheim, ca
Nightmare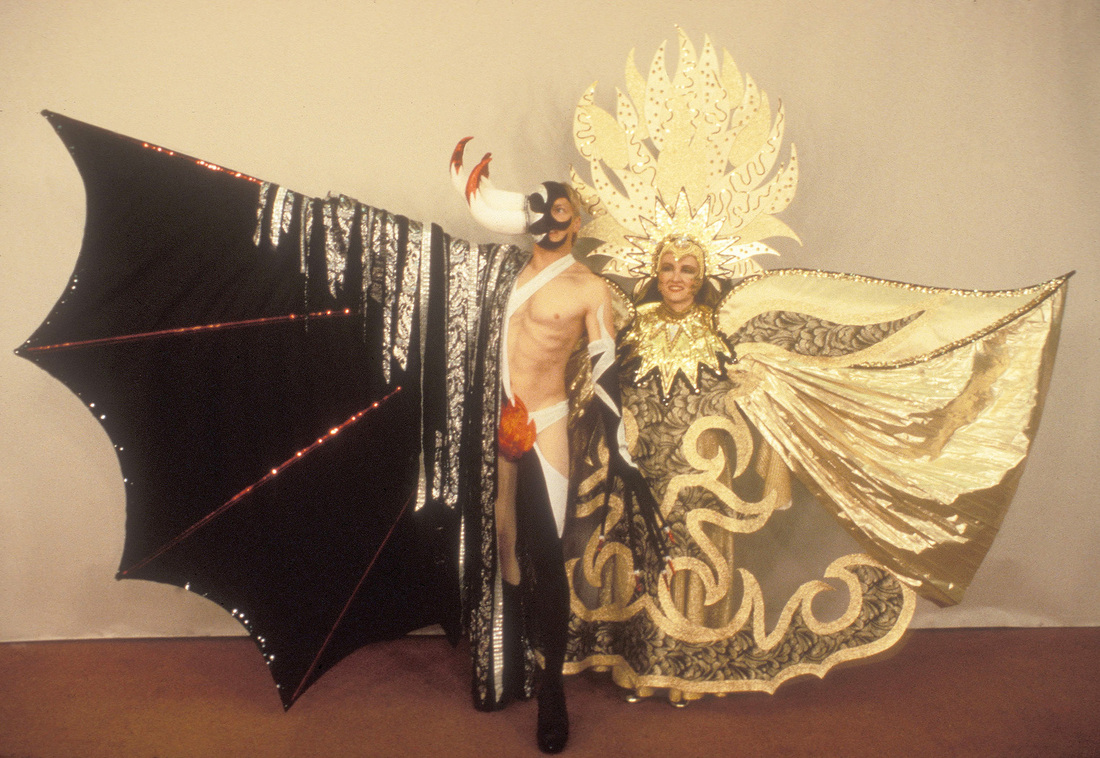 I had helped judge the ConStellation masquerade in Baltimore in 1983 instead of entering, and felt afterward that this had somehow broke my rhythm. Also, I had another costume planned for LACon, but had scrapped it two years earlier after learning that Kathy and Drew Sanders had already done it, down to title and presentation (The Phoenix). Plus I was going through a personal upheaval during the making of "Nightmare" and did not have my heart and soul in these costumes which had been conceived by George, though designed by me.

All bad excuses for this entry being a total bomb and not winning a thing. It was not so much the design that failed me (though I did think I resembled a Harley Davidson logo), but the presentation. My transformation from a white robed dreamer to the sun goddess was clunky and very visible to the audience, unlike the smooth, magical one of the Iron Orchid.

After this loss, my winning streak had been broken, and to date I have never entered another Worldcon masquerade. In a way, the loss was a relief, because I no longer felt pressured to come up with a Worldcon entry every year. In the mid-1980's I had also begun my involvement in the Society for Creative Anachronism (SCA) and my fantasy costuming segued into historical costuming through the rest of the decade.


1985 costumecon 3, columbia, md
fashion show designs



empire formal

male formal

setchucant seer



I continued to design for the fashion shows and made up three of my winners for CostumeCon 3. For myself, "Empire Formal" with real chain mail at the shoulders and front, which had been specially made by an SCA friend. Please note the pointy gold bra which predated Madonna by five years. The outfit was made of bridal satin, chiffon, mylar, glitzy fabrics and lots and lots of trim.

George's "Male Formal" midriff-baring ensemble was made from satin, multi-color brocades and black sequin trim.

Pam's "Setchucant Seer" was made of satins and an unusual 1970's oil-on-water print knit fabric. I seem to often dress Pam as a seer or a queen character for some reason.

1985 Costumecon 3
Fashion show designs
constructed by others


Several of my Fashion Show designs that were constructed and worn by others at the convention.

Left column:
BLUE AND WHITE WEDDING GOWN worn by Sue Abramowitz.
PINK LINGERIE worn by Roz Guzzo.

Right column:
MALE FORMAL worn by Brighton (nee Rusty) Dawe.
GLITZY worn by Adrienne Martine-Barnes.
WU-SHU COMPETITION WEAR worn by Kathy Mayer-Mix.



1986 philcon
philadelphia, pa
Rapunzel


A joke costume, "Rapunzel" consisted of a gold bodice and skirt, a punk wig, a macramé braid and a huge cardboard box (two refrigerator boxes, one on top the other) painted to look like a castle turret and with one window cut out near the top. The presentation: when the lights came up on stage, the long braid started coming out the window. It kept coming and coming and finally, to a crash, the end of it fell to the stage. Hidden inside the tower, I screamed, then clambered up a step-stool to the window, looked at the stage, looked at the audience, fingered the ends of the wig and cried, "Mother! I said 'just a trim!'" I won Best in Class, Master.



1988 balticon
baltimore, MD
sleeping beauty


Another joke costume. My inspiration was a "Sleeping Beauty" fractured fairy tale that had appeared in a MAD Magazine. George's short jacket was inspired by the finale costume of Lone Starr from "Spaceballs." And the deep petal wing sleeves of my gown were copied from a picture of a bridal gown I'd clipped from a magazine and really wanted to try. The presentation: the lights came up on stage to me lying on a couch (two draped chairs). George appeared on stage, the ribbons on his jacket fluttering prettily. He spied me asleep, bent down to kiss my lips, then gagged, clutched his throat and staggered back to fall down. I sat up, looked down at him, then looked at the audience and said in my best Brooklynese, "So what did you expect after a hundred years? ROSES?" We won Best Master in the masquerade.


1987 costumecon 5, new brunswick, NJ
the return of the iron orchid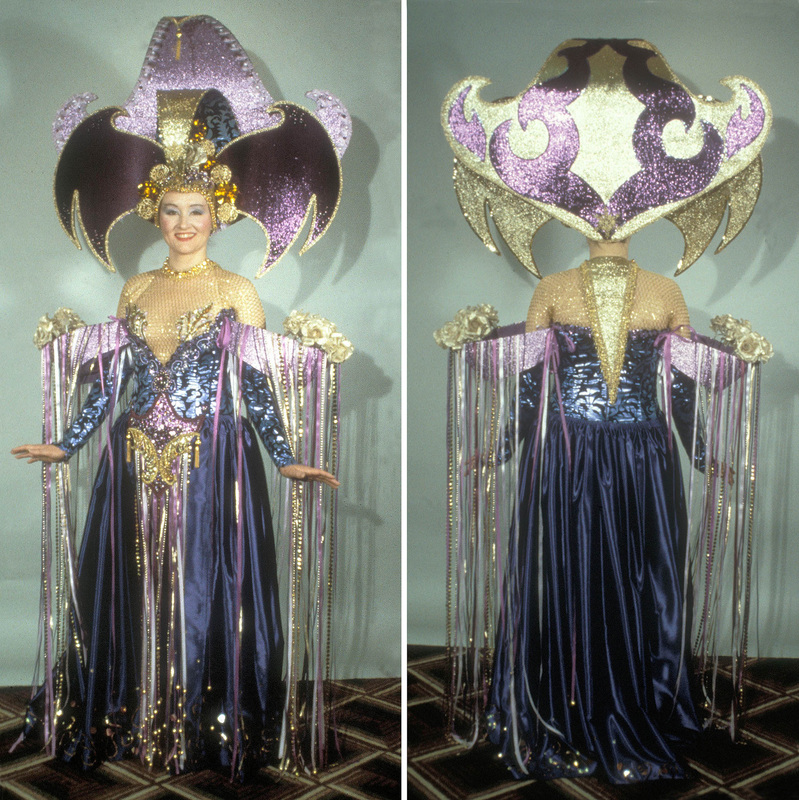 While I very much liked my original Iron Orchid costume, I wasn't quite finished with the character and decided to do her again for this masquerade as "The Return of the Iron Orchid." For one thing, I really wanted to make a headpiece that resembled an orchid. This was the largest headpiece I've ever made and yet it only weighed three pounds. I used historical techniques I was learning in the SCA, such as boning for the corset-like bodice, and cartridge pleating on the skirt. Again I used hanging beads, ribbons and Christmas decorations throughout the costume. The flower-pots on my arms were hooked into my bodice and held up with monofilament line over my shoulders. Should have been a real ouch, but I never felt it.

The costume won Most Beautiful, Master Class, and Best in Show Workmanship.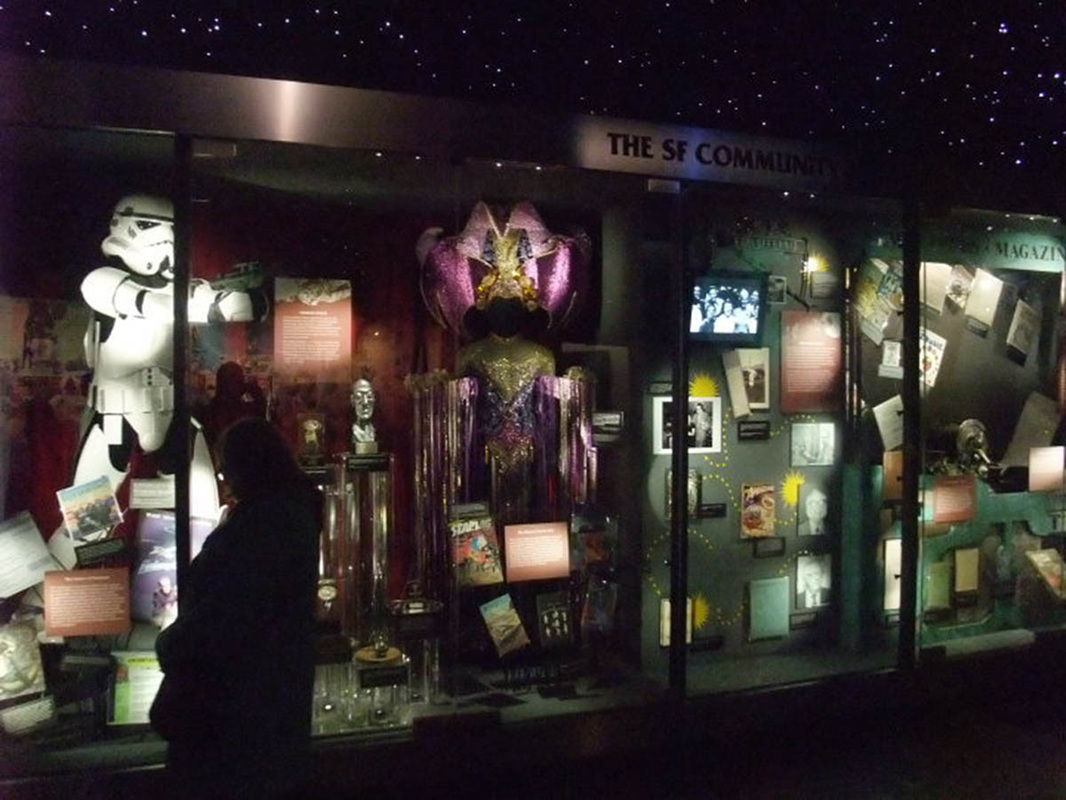 In early 2004 I received an email from Bjo Trimble about the Science Fiction Museum and Hall of Fame, a science fiction museum that was being built in Seattle, WA. Along with movie exhibits, literary materials, etc. the museum was looking for the "ultimate fan costume" which had to have been inspired by a book. I submitted "The Return of the Iron Orchid" since it had, like the first version, been based on Michael Moorcock's Dancers at the End of Time series.

Astrid Anderson-Bear was spearheading the search and in April she emailed to tell me that the Iron Orchid had been chosen! I sent it in April 2004 and it was on display for seven years, until 2011. In November 2006 Mother and I visited Seattle to see the museum and my costume in it.

When I first saw the Iron Orchid in her display case, I was so thrilled, I nearly cried. Bjo and John Trimble were featured in a video in the fan section, and other science fiction luminaries, like Isaac Asimov and Kelly Freas, in an area about writers and artists. I had been more than elated when the Iron Orchid had been selected for inclusion in the museum, but seeing it in person was just unbelievable. I was both honored and humbled to have it displayed with famous science fiction artifacts from movies, TV shows, books and the visages of so many science fiction greats, both screen and literary. Seeing the costume on display made me realize that I had been a part of the phenomenon, the craze, the fandom—everything that had made up science fiction in the 20th century.

Of all the awards and accolades I've received in costuming, this is the achievement of which I am the most proud.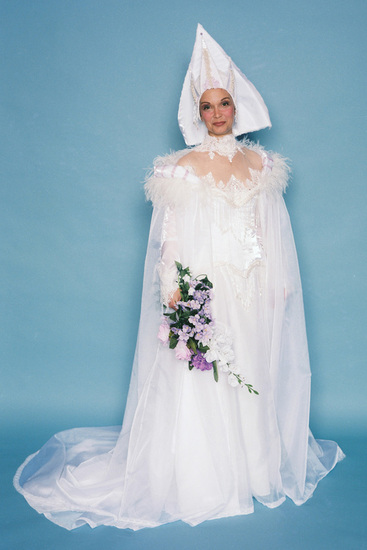 WEDDING GOWN

My fashion show design from CostumeCon 5 made and worn by Kathryn (Condon) Elms.

I've only been married once, but I seem to have this affinity for floofy wedding gowns with strange headpieces.


---