When I first started writing Ten Thousand Gods, I had to picture the characters. At the time I was quite enamored of the beautiful, long haired boys of the heavy metal bands of the 1980's and used many of their faces as inspiration. (Kudos to those of you who can figure out who I based on whom, because I'm not telling.) The name Rasong and the word Lalloure came to me whole out of the air; most of the rest of the names were distillations and reconfigurations (i.e., I wrote down an interesting sound and moved the letters around until I got something I liked). This was all pre-internet days and I have since discovered that Lalloure is actually a French name, which is interesting because when it came to me, I thought it sounded rather French.

Rasong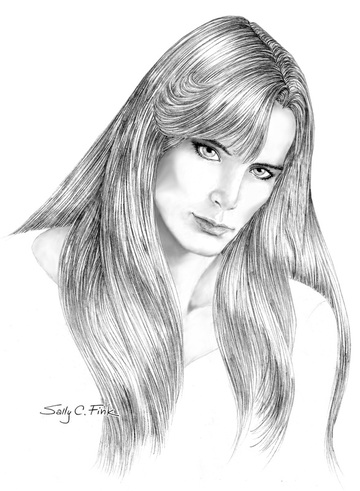 RASONG of DARCLONEN
(rah SONG)

Born 981 ac. near the village of Sweetwell in the Darclonen Province.

Human aliases: Rhoz Lallan, Rasonne Nindir

Personality: Rasong is an average Lalloure with average telepathic abilities. It has shown to be human-oriented to the point of seeking out human companionship where other Lalloure might shun the same. Rasong is gentle and kind and goes out of its way not to hurt anyone else, emotionally or physically, even if as a result it might wind up being hurt itself. Rasong is unassuming and never boastful, yet is not self-depreciating either. It only exhibits Lallourean aloofness around humans it does not know. Rasong has difficulty expressing grief and anger, yet it has a keen, sympathetic understanding of the emotions and problems of others.

Physical appearance: 6 feet tall, 145 lbs. Fair complexion; pale, glass blue eyes; medium brown straight hair with gold highlights.

Background: Rasong was born to a farming couple, Kaketre and Triesher Rede on the Shennen River ten miles south of the town of Sweetwell, (about 25 miles east of Darclonen.) Rasong has an older brother, Achleren, who was born in 975 ac., and a younger sister, Sislane, born in 984 ac. Triesher Rede died in 1001 ac. and Kaketre in 1019 ac.

Rasong lived in Darclonen's creche until it was 17. At age 16, Rasong and its crechemate, 16-year-old Jesselle, initiated one another and became firstloves. Rasong and Jesselle were a couple for over a year, unusual for young adult Lalloure, and did not form pleasure circles until they left the creche. While both had other lovers during that time, they were, for all intents and purposes, practically exclusive. A very long firsthralls!

At age 17, Rasong began its apprenticeship in the silk dying shops under the tutelage of Ashinol. It was through its work in the dying shops Rasong learned to know one of the head clothiers, a diminutive blond Lalloure named D'lyr. D'lyr fell in love with Rasong immediately but they did not wind up pleasuring until Rasong was 24. At that point, Rasong was mature enough to understand there was something else underlying D'lyr's mothering nature.

In 1001 ac. at age 20, Rasong went on its first pilgrimage in the company of an experienced Lalloure. Rasong's first solo pilgrimage took place in 1006, also the year Rhninen came to Darclonen. Rasong and Rhninen were drawn to one another like magnets, but Rasong avoided Rhninen for five years. Rasong and Rhninen finally admitted their love for one another in 1011 ac. and began a stormy love affair. Rhninen asked Rasong to share the binding rite three years into their relationship, and they became kamatae in 1014 ac. In 1020 ac. after one of their fights, Rasong left Rhninen to travel on a year-long pilgrimage. During the time Rasong was gone, Rhninen turned to very self-destructive behavior. This is the state of their relationship at the beginning of Book One of Tales of the Lalloure, Ten Thousand Gods.



---
Vilian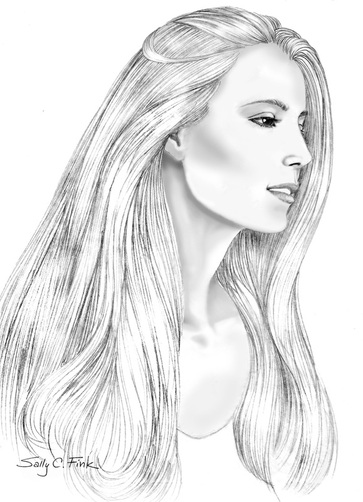 VILIAN KALAENA KHERLYNDIR
as human
(vah LIE an kah LAY nah kair LIN der)
Nicknamed "Little Lion," which tells you how her name sounds—va LION.

VALONILYR as Lalloure
(vah LON ih lir)

Born 1015 ac. to Sashenna and Claas Kherlyndir on a farm near the border of the Darclonen Province.

Personality: Vilian started life as a human girl and was raised until age eighteen with human morals. As such, her personality was shaped by having a human beginning even though she lives most of her life as a Lalloure. Vilian is confident in most aspects as she believes in herself and in her ability to make decisions and choices. She accepts responsibility for herself and her actions. She is headstrong and can be outspoken. She is also impatient and has a low tolerance for complaining and excuses from others. Vilian is intensely loyal and expects the same from those in whom she invests her loyalty.

Sexually Vilian was uninhibited and open-minded for a human. In Lallourean society she was, at first, backward and shy. While Vilian had no problems with Lallourean sexual behavior between Lalloure, she had difficulty coming to terms with it when applied to herself. She does not participate in pleasuries nor keep a typical circle of lovers. During her years living as a Lalloure, she keeps only three to five lovers at a time. Vilian does, however, enjoy watching Lalloure pleasure together.

Physical appearance: 5 feet, 11 inches tall, 125 lbs. Very fair complexion, dark brown eyes, full honey blond hair with lighter highlights. When Rasong met her the second time at age eighteen, Vilian appeared female, though with wide shoulders, slim hips and small breasts. Later examinations by Lallourean amendae monitors revealed she had only one centrally positioned ovary and no uterus, thus she never menstruated when she reached puberty. Like a Lalloure, Vilian has no body hair below her head.

Background: The winter Vilian was six, the Lalloure Rasong visited her family's farm. When the Lalloure touched her hand the first time, it awakened her latent telepathic abilities and she mindtouched with it. After Rasong left, Vilian began to sense the emotions of others around her and discovered she had limited healing abilities. When she was older she also found that she could pain-send.

Vilian grew up in a farming community surrounded by cousins and friends. She was raised as a farm girl with chores and responsibilities from a young age. Her family was neither wealthy nor poor, and every member worked hard. Vilian is the youngest child of the Kherlyndir family. Her oldest brother Kett, twelve years older than Vilian, left the family when he was 22 to marry and work for a large farming conglomerate in the eastern part of the Darclonen Province. Her other brother, Greyen, eight years older than Vilian, left the family at 16 to apprentice at Talanae Poth's artist studio in Paderbyrn.

Vilian is on her way to Paderbryn at the beginning of Part Two of Ten Thousand Gods.

---
Bredes

BREDES of JASCLARION
(BRAY dees)

Born 1005 ac. in a flyer near the outpost, a Shethlandran Company settlement on Ertaetha.

Human alias: Bredin Brikker

Personality: Bredes is outgoing, talkative and enjoys being around people, human and Lalloure. Bredes is lively and usually optimistic, very seldom exhibiting depression or melancholy. Even though Bredes was raised as a human until age 15, it had relatively few problems adjusting to a Lallourean lifestyle once it entered the citadels. Bredes always retains a more urgent approach toward life. It is more goal-oriented and more easily frustrated than a typical Lalloure in the same situation.

Physical appearance: 5 feet, 11 inches tall, 135 lbs. Fair complexion, dark brown eyes. Dark brown straight hair. Bredes' face is often described as "gentle."

Background: Bredes was born in a flyer on the way to Shethlandran's outpost on Ertaetha. Its parents had been prospecting in the northern Kerrakkin Mountains where its father, Benbe Klicaron, was accidentally killed in a landslide. Sare Klicaron was injured in the same landslide but was found by Company scouts who happened to be in the area. Sare went into premature labor from the shock of her injuries and her baby was born before the flyer reached the outpost. Sare was kept unconscious for several days while her injuries were tended. It was not certain at first if she would live. The baby's prematurity was of more concern to the outpost doctor than its lack of sex organs, but after two days in a make-shift incubator, the baby was strong and lusty enough to be cared for as a full-term infant. When the three-day-old baby was presented to Sare, she was told she had given birth to a girl. But when Sare examined the infant, she cried. At first the doctor and medics did not understand what Sare was trying to tell them, then they realized the infant was not a deformed girl but a Lalloure.

As Lalloure always appeared within several days of a Loray's birth, Sare did not understand why they never came. After her Loray's third birthday, she decided the Lalloure were never coming. She thought perhaps since Loray had been born in the air and not on the ground, the Lalloure had not sensed its presence. In actuality, the Loray had been born too far from any citadel for its birthscream to be heard. At that point the baby (simply called "Loray") was given the name Bredes, a neuter name Sare created from Bredin and Bradis, popular names for boys and girls at the time.

Bredes' mother was adamant that the child be referred to with the neuter pronoun and that it be treated neither as a boy nor a girl. This met with much resistance from the outpost personnel. They eventually adopted the use of "it" for Bredes but had more difficulty treating it as a neuter. Bredes grew up knowing it was special, not especially because it was neuter, but because it was the only child at the outpost. Despite the lavishment of attention, Bredes did not become spoiled but instead learned to be very people-oriented and extroverted. Sare allowed the child's hair to grown long, as she knew Lalloure universally wore their hair long. She often braided it in many tiny plaits giving rise to Bredes' nickname of "Braids."

Bredes proved itself extremely intelligent and was given an extensive technological education. But even before it could walk or talk, Bredes preferred animals, especially thorsses and cats. The child spent long hours riding through the northern wilderness. Even though it was physically Lalloure, Bredes did not exhibit overt Lallourean telepathic abilities. There was, of course, no one it could send to and thus the rumored mindtouch abilities of the Lalloure remained an intriguing theory. Bredes was naturally interested in everything the outpost scouts learned about the Lalloure and read their reports voraciously. Lallourean healing powers were well-documented but, having not been trained, Bredes was not able to utilize its own to any extent. It could, however, always tell what people were truly feeling, another known Lallourean ability. The fact that Bredes' childhood bumps and scrapes healed more quickly than the average human was noted. However, the Lallourean technique of pain-sending was never successfully tested with Bredes. Raised in a protected atmosphere, Bredes learned trust and was never threatened enough to react with the self-protective mental assault.

Much to her surprise Sare learned her Lallourean child was as sexual as any human child and demonstrated similar curiosity and response. The summer Bredes was 12, a new employee at the outpost, a young man named Yari, accompanied it on an overnight camping trip. Yari had difficulty believing Bredes wasn't some kind of female and coaxed the child into his sleeping bag out of curiosity. Yari was not aroused by Bredes' childish, neuter body but he was intrigued by its response to his kisses and fondling. Bredes enjoyed his caresses and later told Sare who was horrified at first, reacting like a mother whose child had been molested. But Bredes' obvious enjoyment and guiltlessness tempered her reaction. She also found Bredes masturbating after the incident with Yari and discussed the Lalloure's awakening sexuality with the outpost doctor. The doctor was fascinated by sexual response in a neuter and encouraged Sare not to let her own beliefs color Bredes' behavior.

Consequently, even though Bredes was imprinted by the sexual mores and customs of the humans around it, the Lalloure was allowed the freedom to explore its own sexuality without shame or recriminations. And while no one at the outpost touched it intimately again (Yari was promptly dispatched back to realtime), Bredes entered its teenage years with healthy sexual desires and exhibited crushes on both men and women.

Bredes was not permitted to venture from the outpost area (except for flyer lessons) until the spring it was 14. By that point the outpost had been on Ertaetha for 15 years and still had precious little information on the Lalloure. Shethlandran was demanding more and though they were very reluctant to put Bredes at risk, the outpost personnel realized they had to let Bredes interact with others of its kind. Consequently in the summer of 1019, Bredes met other Lalloure for the first time at Aklivor's summer courtesy. The entire encounter was rehearsed and choreographed with Bredes in disguise as a boy. Naturally it did not turn out as planned. The first Lalloure who touched Bredes knew what it was and Bredes was barely able to get away before it revealed too much.

Bredes was fascinated by and drawn to the Lalloure and wanted to try living among them, both because of its own needs and desires and to gain information for the outpost. After a year of planning, Bredes entered Jasclarion on the 16th of Fifth Month, 1020 ac. The narrative of Book One of Tales of the Lalloure, Ten Thousand Gods, begins at this point.


---
Rhninen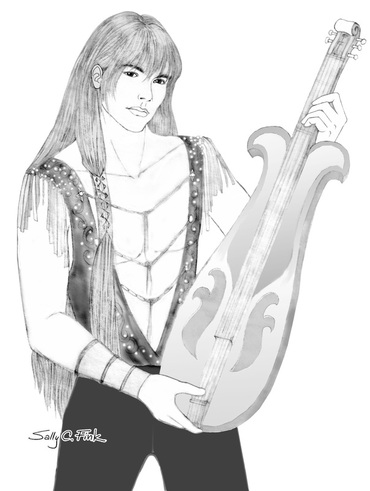 RHNINEN of K'KESSINAIR
(RIN in nin)
Think Rin Tin Tin and take out the t's.

Born 891 ac. near K'kessinair.

Personality: Rhninen is a hot-tempered, arrogant Lalloure with an overly developed libido. When tired, it can be cross, irrational and resort to hitting or slapping others in frustration. Rhninen also occasionally exhibits jealousy. But Rhninen is also vulnerable and can be incredibly supportive and protective. Its pleasuring techniques are so skillful and so fulfilling to its lovers that Rhninen is an extremely popular Lalloure wherever it goes. Rhninen projects a charismatic aura of sexuality and confidence which attracts others to it.

Physical appearance: Six feet tall, 150 lbs. Fair complexion, full lips, deep blue eyes, red hair (often described as copper-colored.) Rhninen is stronger both physically and mentally than it appears to be.

Background: Rhninen was born about fifty miles to the north of K'kessinair to a farming family in 891 ac. When its guardians arrived a day after its birth, the father met them on the porch of the farm house and thrust the day-old Loray at them, saying they did not want a useless child for a year. The family already had eight children and a baby who would drain their resources and never contribute to the family was perceived as a burden, even with the Lallourean birthing gifts. The guardians took the red-headed Loray and gave the father birth money which he pocketed without a word. So it would have a year with humans like all Lorays, Rhninen was fostered with a family at K'kessinair's clearinghouse in Donimus and welcomed into the citadel on its first birthday. When Rhninen was old enough to understand, it was told a softened story of its parents' rejection. When Rhninen was 14, it secretly journeyed to its birthplace and covertly watched its parents and brothers and sisters. Rhninen was drawn back numerous times over the next several years, and when it was 17, finally felt bold enough to meet its family.

Konder K'lessin was a hard-working, hard-drinking, short-tempered farmer and his wife Haethe was a no-nonsense farm wife who had birthed thirteen children, eleven of whom had lived. Their farm was moderately successful, i.e., they weren't starving or poor, but there was little room in their life for frivolities. And a Lallourean child had been considered a frivolity. When Rhninen appeared at their door one spring morning, they thought it was a Lalloure on pilgrimage and welcomed it gladly. Then Rhninen revealed who it actually was and the atmosphere changed. Things were suddenly uncomfortable, cool and strangely resentful. Having expected to be welcomed as a lost member of the family, the teenage Rhninen was very hurt. Konder offered Rhninen money and, insulted and stung, Rhninen left.

Rhninen thought its family had rejected and hated it for not being human and it never forgot the rebuff. Psychologically, Rhninen was permanently scarred and held a morbid fear of rejection its entire life. This was masked with anger (the tendency for which Rhninen inherited from its father) and an overly-developed libido which Rhninen used in search of love and acceptance.

On its 13th birthday, Rhninen was initiated into Lallourean adulthood by an older Lalloure, 115 year old L'donlae. L'donlae was a beautiful, elegant, blond Lalloure, an architect, actor and director. L'donlae also had a temper, although not as quick as Rhninen's. Rhninen remained under L'donlae's tutelage, both sexual and artistic, for almost ten years. Then, although it had had other lovers, Rhninen began forming its own circles and moved away from L'donlae's sphere of influence.

As a result of its apprenticeship in architecture, Rhninen became a lab worker and soon moved into other fields of expertise. The young red-head proved itself quick and often brilliant. When Rhninen was in its late forties, L'donlae sought it out, wooed it again and Rhninen gladly went back to its firstlove's bed. They became so close this second time, Rhninen moved into L'donlae's suite. But due to their respective tempers and Rhninen's occasional outbursts of jealousy, theirs was not a smooth relationship. One morning after a particularly nasty fight where they had hurled mental assaults at one another (and young Rhninen had proven itself L'donlae's equal in that area), L'donlae threw Rhninen bodily out of their room. While Rhninen was picking itself off the floor, L'donlae tossed all its clothes and love gifts out on top of it as well. Rhninen stood up with as much dignity as it could muster, then turned and walked away.

In the labs that day, Rhninen's supervisor, unaware of what had transpired between Rhninen and its firstlove, turned down a proposal on a human communication systems that Rhninen had spent weeks preparing. It was not the first project of Rhninen's to be refused, but coupled with L'donlae's rejection, it was too much for Rhninen to bear. Unable to contain its pain and frustration, Rhninen destroyed a lab in a fit of anger. Those Lalloure who tried to physically stop Rhninen were tossed off like so many annoying insects, and some of them were injured from being thrown forcefully into walls or cut on broken glass. It took the combined mental forces of Kelakern H'non and two other elders to render Rhninen unconscious and stop its insanity. Rhninen was unconscious for a day and a half. When it awakened, it found itself tied in its bed. Outraged, Rhninen screamed for several hours until it became hoarse. For the next week, Rhninen intermittently shouted, cried or stared blankly at nothing. Healing circles had no effect on it and more than one Lalloure was certain Rhninen had gone insane. But Rhninen gradually came back to itself again and when it was judged mentally sound, Kelakern informed Rhninen that, effective within the month, it was being transferred to Sohninor. The true reason for this sudden move was never officially stated although everyone was acutely aware of it, Rhninen most of all. Troublesome Lalloure were often shuttled between citadels to break them from the influence of friends, lovers and circles.

At first Rhninen did not want to go and appealed to Kelakern not to send it away. Kelakern probed the depth of Rhninen's contriteness and said it would consider the matter further. But within a week, Rhninen changed its mind and asked Kelakern if it could leave immediately. For while Rhninen had not rejected K'kessinair, K'kessinair had rejected Rhninen. Few would speak or send to it or even acknowledge its presence. L'donlae made sure their paths did not cross and Rhninen never saw it again.

Rhninen lived at Sohninor for thirty-nine years until 982 ac. At this southern-most citadel, Rhninen honed its architectural skills and helped in the rebuilding of Sohninor when it was extensively damaged by floods during the summer storms of 955 ac. Rhninen was respected and loved at Sohninor and might have remained there its entire life had it not become involved with a human named Arallen.

During a summer Courtesy in 982, Rhninen met Arallen, an exceptionally handsome young man from a near-by town. Arallen was young, still in school, and he was very much attracted to Rhninen's good looks and charisma. Rhninen had gone on several pilgrimages while at K'kessinair and Sohninor and was relatively comfortable around humans. Rhninen flirted covertly with the boy during the festival nights of the Courtesy and several days later went into the town of Ortleses to visit him. Arallen, a jeweler's son, was extremely flattered that the attractive Lalloure had come to see it. Never one to move cautiously, Rhninen seduced Arallen that night and Arallen, a virgin up to that point, fell madly in love with Rhninen. This totally accepting love from a human so touched Rhninen, it told Arallen its name.

Rhninen and Arallen saw one another as often as possible that summer, meeting for clandestine rendezvous in the woods where they built a little lean-to. At first Rhninen was simply intrigued by the human and by his feel and physical differences. Their love-making was not as satisfying for Rhninen as pleasuring with another Lalloure, but it was passionate in other ways. Arallen was totally uninhibited and would do anything Rhninen wanted. It was not long before Rhninen fell in love with Arallen as well.

In the early fall of 982, three drunken humans surprised Rhninen and Arallen at their hide-away and in the ensuing fight, Arallen was killed. In a rage Rhninen killed the three men and took Arallen's body back to the citadel. Within a day news of the men discovered slain in the woods reached Sohninor. Rhninen never told the entire story to anyone, but it did not deny killing the humans. Rhninen built a pyre and burned Arallen's body on it, as though the boy had been Lalloure. After the pyre Rhninen was sent to Rhil Hetre. Devastated by the loss of Arallen, Rhninen was glad to leave. Arallen's family never found out what happened to him, and assumed he had run away.

Rhninen lived at Rhil Hetre until 1006 ac. Rhninen was never completely comfortable at Rhil Hetre. It was simply not a citadel where Rhninen fit. After twenty-four years, Rhninen was on the outs with half of the Lalloure there and both Rhninen and Jyn H'non thought it would be a good idea if Rhninen left.

As Rhninen had met Lhro H'non in 1000 ac. when Lhro visited its creche citadel during the Millennium Memory, Rhninen applied to Darclonen, was accepted with conditions and moved there in 1006 ac. At Darclonen, Rhninen became aware of a beautiful, gentle Lalloure by the name of Rasong and knew from the moment their eyes met that this was the Lalloure it had been searching for all its life. But Rasong was put off by Rhninen's flamboyance and avoided Rhninen for five years.

In 1011 ac. Rhninen was finally able to touch Rasong and get past its mental barriers and they began a stormy love relationship. Rhninen asked Rasong to be its kamatae in 1014 ac. and Rasong accepted. They held the ceremony late one night in Fairforest Hall where they had first met. But the scarred part of Rhninen's psyche couldn't believe Rasong actually loved it and Rhninen would often lash out at Rasong with mental and physical abuse. Yet no matter how often or severely Rhninen hurt Rasong, Rasong always took it back.

After one of Rhninen's jealous rages in 1020 ac., Rasong left on a pilgrimage which lasted a year. During that time Rhninen decided to slowly destroy itself. This is the state of their relationship at the beginning of Book One of Tales of the Lalloure, Ten Thousand Gods.

---
D'lyr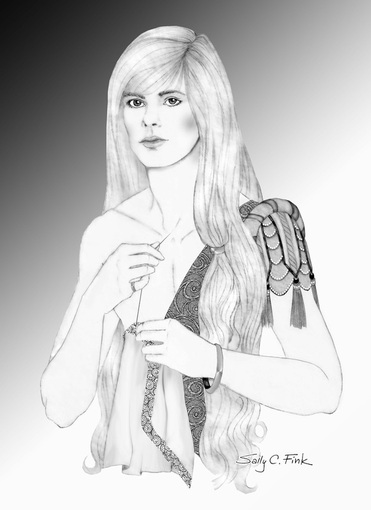 D'LYR of PERICLATH
(dah LIR)

Born 790 ac. near Periclath.

Blue-eyed and blond-haired, D'lyr is one of the head seamers in the clothier shop at Darclonen, and one of Rasong's lovers. D'lyr is quite tiny, only 4'8" tall, and when it masquerades as a human, takes on the persona of a 10-year-old girl. D'lyr is multi-talented in the clothing arts, an excellent sewer, draper and embroiderer. D'lyr also has the tendency to mother any Lalloure within its sphere, no matter how much older, taller or bigger than it is.

---
M'pelanae H'non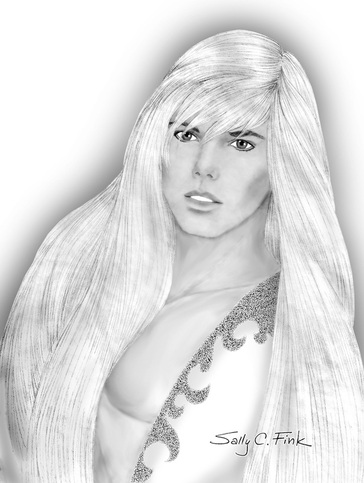 M'PELANAE H'NON of BIR HALAKE
(mah PEL an ay)

Born 976 ac. near Bir Halake.

Personality: M'pelanae was just your average Joe-Lalloure before it was discovered to possess the Talent. In the first thirty years of its life, M'pelanae exhibited no particular artistic talents and not much ambition. It did adequate work to those jobs which it was assigned, but little more. While not exactly lazy, M'pelanae was rather lackadaisical toward life.

Once it became the H'non however, M'pelanae was catered to and revered because of its Talent and its personality changed. M'pelanae had the time to become more artistic and discovered designing, writing and sculpting talents. While it still exhibited a very cavalier, leisurely attitude towards time, M'pelanae began to admire itself more and became more self-centered (though not in a selfish way). It also exhibited a much more seductive attitude and reveled in material and bodily luxuries—fine clothing, beautiful surroundings, pleasuries, parties.

Given the opportunity and the means to rise above average, M'pelanae became sophisticated and sensual. As it was catered to and revered, M'pelanae came to believe all Lalloure should be so treated.

Physical appearance: 6 feet, 2 inches tall, 160 lbs. Very fair complexion, violet eyes. M'pelanae's hair is pale blond, very thick and reaches to its ankles.

Background: M'pelanae was born in 976 ac., the only child of an older couple who lived in the Kerrakkin Mountains twenty miles north of Bir Halake. Derivae and Willer Hedmerk were both in their forties when the Loray was born and it was very hard on them to let the baby go when its first year was past. When M'pelanae was eighteen, it moved its parents to Netpinny, five miles from Bir Halake, and visited them often.

The first thirty-five years of M'pelanae's life were uneventful. The young Lalloure left the creche at age sixteen and began mining and grading crystal. M'pelanae also learned some carpentry and worked as a planter and harvester during the summer months.

In 1011 ac. when M'pelanae was in its mid-thirties, it began to notice a slight ache behind its eyes after being released from the collective, but this only happened occasionally and M'pelanae thought little of it. One morning, Bir Halake's H'non, M'kiria, began leading the collective and sensed a tiny spot of resistance, a "bump," in the collected mind. As this sometimes occurred when a Lalloure was not paying attention to the flow of the collective, M'kiria pulled at it to bring it into the mind.

But when M'kiria pulled, M'pelanae screamed, clutched its head and collapsed on the floor, unconscious. The H'non released the collective suddenly—a disorienting experience for many in the assembly—and hurried to M'pelanae's side. M'pelanae came to after a moment to find the H'non and others hovering around. But before M'kiria could ask what was wrong, waves of pain flowed off M'pelanae and when M'kiria attempted to send to it, M'pelanae fainted again. When M'kiria learned M'pelanae's age of only thirty-five, it was shocked for M'pelanae was showing classic signs of the Talent. And other than the First Lalloure, no New Talent had ever manifested under the age of 100.

M'pelanae trained under M'kiria H'non for seven years. In 1018 ac., M'kiria passed the Bir Halake Collective to M'pelanae during its Sedence ceremony and M'pelanae was named H'non. Shortly thereafter M'kiria H'non left Bir Halake to return to its creche citadel of Iloloe where the H'non was very old and wished to retire. M'pelanae missed its friend and tutor and, in looking for comfort and the occasional distraction from its new responsibilities, returned to a place it had not visited for years.

As a young Lalloure fresh from the creche, M'pelanae had once joined several friends one evening when they sneaked into the local Church of the Child. M'pelanae and the two other Lalloure were impressed by the beauty of the sanctuary—the altar (called the Seat of T'loram) that the prelate walked beneath to enter the chancel, the statuary, the colored glass and filigree work. In the back of the Seat was a huge painting of T'loram, the Church's generic Lallourean godling, a Lalloure depicted with floor-length blond hair, hands outstretched, beautiful and serene.

They found the service itself mostly boring. The three Lalloure in disguise discovered the humans were appealing to T'loram as an intermediary between themselves and the Allonae which they called the "One." Sort of a saint or an angel who would speak for them before their god. The Church of the Child considered all Lalloure immortal, pure, innocent, without carnal desire, and far above themselves. And they considered themselves chosen and above other humans since virtually every member of the congregation could claim a Lallourean relative within their family tree.

M'pelanae and the others did not go back after the one time. Later they talked about what fun it would be to shock the humans and actually appear in front of them during a service, but it was just pleasuring talk and nothing came of it. M'pelanae did not think about the Church of the Child again for years.

One day M'pelanae was assigned to a work party that assigned to close off an accidentally excavated passage between the Bir Halakean mines and a storage tunnel in the Church of the Child. After the work was completed, M'pelanae returned and fashioned a secret door between the two caverns. M'pelanae then began to clandestinely visit the Church of the Child. The miner discovered vantage points and rooms that it could move through undetected by the humans. Of course it was spotted one time by a human and vanished seemingly into solid rock. The human who glimpsed it thought he had had a vision and told everyone in the church. Some believed him. Some did not.

M'pelanae did not return to the Church of the Child for almost twenty years. The miner closed off the passageway after its scare and forgot about the Church. But after it became H'non of Bir Halake, M'pelanae began walking the caverns at night simply to get away from the citadel for a few hours. As the new H'non, the former miner received new quarters, new clothing, new privileges, personal aides and much more. But with the benefits also came the responsibilities.

The new H'non was entrusted with the mind of Bir Halake, with the collective and all that implied. M'pelanae led the collectives five to eight times a week depending on the season. M'pelanae also met with Noenlen and the elders for, even though it was not expected to attend the daily runnings of Bir Halake, it was expected to know what was going on. M'pelanae was not permitted to leave Bir Halake except under special circumstances and then only in the company of at least one or two others. H'nons were too rare and precious to go trotting about the countryside on pilgrimage or just on a whim.

Its new position sometimes caused M'pelanae to feel overwhelmed and stifled and the H'non walked the caverns at night because of their comforting familiarity. During one of these walks M'pelanae discovered the old passageway to the Church of the Child and reopened it. The H'non began returning to the Church on occasion to hear the service. Older now, M'pelanae did not find the worship amusing; rather the Lalloure found the human adoration a logical extension of the reverence it received from its own people. And M'pelanae began to wonder why the Lalloure had ignored the Church of the Child for so long.

Covertly, M'pelanae brought up the Church of the Child to curia and the elders asking why the Lalloure were not more involved with them. Here was a group of humans who revered the Lalloure on a high level. Was there not some way the Lalloure could help them and, in turn, benefit from their worship?

M'pelanae was not the first young Lalloure to have these questions. The elders explained these humans worshipped an unreal, idealistic idea of Lalloure which no Lalloure could live up to. When Lalloure and humans first began working out the way they would interact with one another by trial and error in the first century, the Lalloure quickly determined that to become "gods" of the humans would lead to exploitation on the part of both races. Eventually the Lalloure saw that because of their inherent mental differences and disparaging lifespans, it was more beneficial for the two races to live apart and only interact with one another in specific situations.

M'pelanae was not convinced, decided it would prove the curia wrong and started to think about ways it could become involved in the Church of the Child and also use their worship to benefit the Lalloure. But Lalloure often take years on projects and M'pelanae was no exception, especially given its already leisurely approach to life.

At the beginning of Book Two in Tales of the Lalloure, Gods of Crystal, Gods of Dreams, M'pelanae has done very little with the Church of the Child other than to fashion itself after the humans' god-image and copy some of their architecture and furnishings for its own habitat. When M'pelanae became the H'non, its hair was just below shoulder length. Now, fifteen years later, its hair has grown to its ankles for several reasons—one, M'pelanae has a kind of lifestyle where such long hair is not an encumbrance and two, T'loram at the Church of the Child was depicted with floor length hair.

Also, M'pelanae designed its "Throne" or large pleasuring couch in Glaceglitter Hall after the Seat of T'loram in the Church. The idea for the filigree screens were taken from the Church as well. As Gods of Crystal, Gods of Dreams opens, M'pelanae is pondering how to become the god incarnate of this group of Lalloure worshipers.

---
Rhendilon Rt'san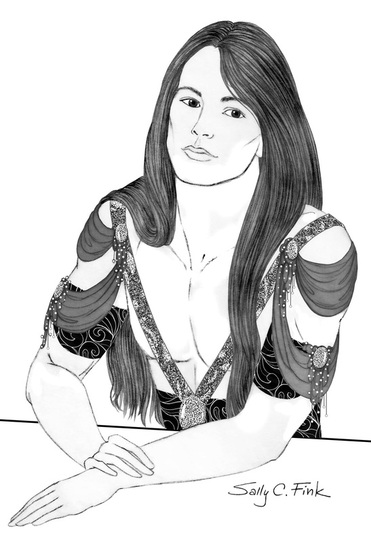 RHENDILON RT'SAN of HYLCYON
(REN dih lon rit SOHN)

Born 906 ac. near Hylcyon

Physical appearance: Six feet, two inches tall, 160 pounds, red hair and green eyes. Rhendilon has a broad, muscular chest and is more brawny than the average Lalloure, though in no way lacking Lallourean grace or suppleness.

Background: Rhendilon is a seventh cousin of Rhninen of K'kessinair and younger than Rhninen by only fifteen years. They never met but Rhendilon knew of their consanguinity and wrote to Rhninen, though Rhninen did not reply. Rhendilon resembles Rhninen facially though it has a larger body build, darker red hair and green instead of blue eyes. Rhendilon also has a softer, kinder look about it. One thing the cousins share is a dedicated single-mindedness about their interests.

Rhendilon's background is unusual in that it relocated to Bir Halake while it was still a Loray. Rhendilon always knew it wanted to sculpt and was whittling when it was a child. Its creche citadel of Hylcyon could offer it little in the way of an apprenticeship in sculpting and Rhendilon begged to be allowed to move at Bir Halake. Finally when the Loray was fourteen it was permitted to emigrate to the northern citadel. At Bir Halake Rhendilon made carpentry and masonry its vocation and honed its sculpting talents with a vengeance.

For almost a century Rhendilon modeled clay and porsleen and sculpted wood, marbline, and crystal. The fruits of its art traveled to other citadels and both Rhendilon and its work became well-known. When Rhendilon was 119 years old in 1025 ac., it was made Artisan and thereafter known as Rhendilon Rt'san.

Rhendilon is warmhearted, considerate and gentle, but rather quiet. Rhendilon was nearly nineteen years old before it took its firstlove and only then because it realized it needed to leave the creche. Rhendilon asked a close friend and sculpting mentor to be its first. For most of its life Rhendilon's libido has been less than the average Lalloure—it would simply rather sculpt.

Rhendilon had been at Bir Halake for twenty-five years when Athanen moved there in 945 ac. and was 39 years old as compared to Athanen's 144. Because of its personality Athanen's star rose much quicker than Rhendilon's. For many years Rhendilon was aware of Athanen even though the reverse was not true. And for many years Rhendilon did not think one way or another of Athanen other than to enjoy the plays and musicals the actor directed and appeared in. Athanen did not become aware of Rhendilon until it was bestowed the honor of Rt'san in 1025 ac. The short story What Truth in a Stone? describes how they fell in love.

Rhendilon's costume in this sketch is overly fancy for the sculptor. I figured it is something Rhendilon would have worn to one of Athanen's plays.


---
Athanen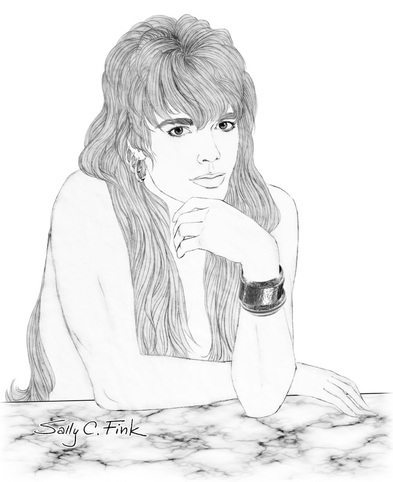 ATHANEN of K'KESSINAIR
(ah THAH nen)

Born 801 ac. near K'kessinair.

Physical appearance: Six feet tall, very slender, medium blond hair and blue eyes. Each ear is pierced three times.

Background: Athanen was a crechemate of L'donlae (Rhninen's firstlove) and they were close for a number of years. They were both free spirits and Athanen, younger by seven years, admired and then emulated L'donlae to a certain point. Pale and refined, L'donlae grew into elegance and finesse, while Athanen developed a style which was more vivid and outrageous. When Athanen was in its 60's (about 864 ac.) it left K'kessinair and relocated to C'sirik and later (889 ac.) moved to Jasclarion.

Athanen moved to Bir Halake in 945 ac. when it was 144 and at Bir Halake found the niche it had been looking for. M'kiria H'non became fond of it and encouraged Athanen to use its talents to nurture music and the theatre at Bir Halake. The citadel of crystal miners was not particularly given to performing arts; most artistic Lalloure at Bir Halake were painters, sculptors and jewelers. At Bir Halake Athanen established its own outlandish style and developed the performing arts, especially theatre. For its vocation, Athanen has worked in the mines, the fields and is currently a horticulturist in the solarhouses.

Athanen is a flashy dresser, even more so than the average Lalloure. And Athanen introduced a human bodily adornment to Bir Halake, that of ear piercing. Mutilation of the body in any way (piercing, tattooing, etc.) is abysmal to the Lalloure who are always striving for their vision of physical and spiritual perfection, but the aberration accentuates Athanen's unique style. It has not been copied by any other Bir Halakean even though pierced skin could easily be eradicated by self-healing the same as any other bodily imperfection.

---
L'loren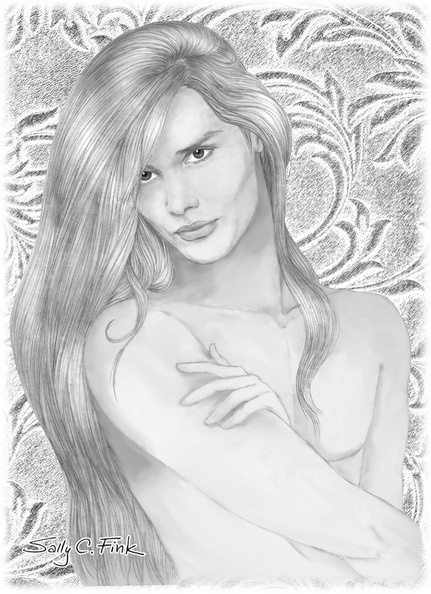 L'LOREN
The First Lalloure
(lah LORE en)

Born 1 ac. near what is now the citadel of Fialonshir.

This is the portrait Vilian finds in L'loren's Veil, a shrine to The First Lalloure at Bir Halake. The accompanying plaque explains that the portrait is a copy of the original which hangs in Phladrienne Hall at Fialonshir, the first citadel L'loren had established. In the painting L'loren is depicted with long, dark blond, sun-streaked hair and deep brown eyes, similar to Vilian's coloring.

L'loren, first neuter human mutant born on Ertaetha, was instrumental in finding and establishing communications with other telepaths and reorganizing Ertaetha after the accident. These telepaths eventually named themselves Lalloure—"L'loren's People"—to honor L'loren.


---
Chennen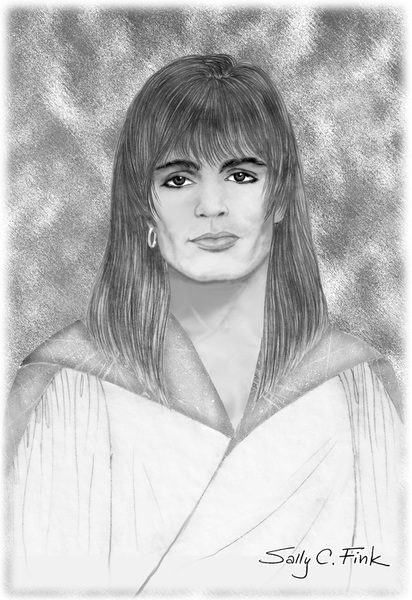 CHENNEN
One of the First Lalloure
(CHEN nen)

Born 3 ac. near what is now the citadel of Fialonshir.

One of the original Lalloure. Lover, "husband" and kamatae of L'loren, the First Lalloure. Chennen grew up in a house full of brothers and was raised as a boy. Chennen was a garrulous and lighthearted Lalloure, with a quirky, lopsided smile as though it was always laughing at itself.

In this portrait, Chennen's brown hair is cut in the masculine style of the time, short on the top and over the ears, shoulder length on the sides and back.


---