This artwork is supplemental for the first book,
Ten Thousand Gods.
Most of what you see here, on the
Characters
page and in my published novels was sketched in the late 1980's or early 1990's. Most of these were pencil sketches, though several were ink drawings. I've re-rendered most of them in Photoshop to clean up the shading, plus add contrast and textures. Though the most of the portraits on the
Chara
cters
page and the maps on the
Maps
page have or will appear in my published works, none of the illustrations on this page was published in the novels.
---
Illustrations from Ten Thousand Gods

---
Vilian and Rasong, First Day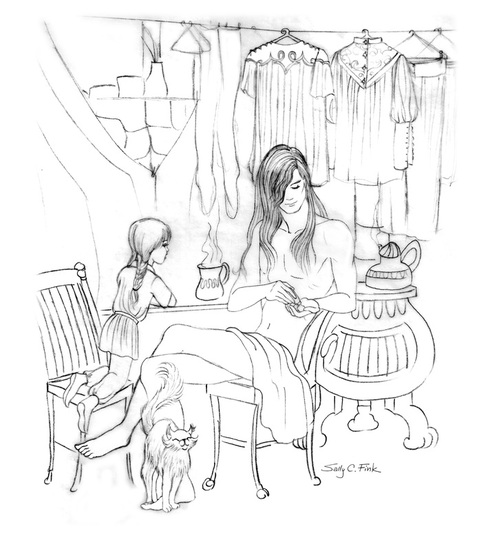 Six-year-old Vilian has just asked Rasong, "What's that stuff?" as the Lalloure pours kavala detangling lotion into its hand. In this scene, Rasong determines that Vilian does possess telepathy.

I've always liked the coziness of this picture: the warm bathingroom with a round-bellied stove and tea kettle, the Lalloure's fancy clothes drying on a line behind it, draperies pulled over the stone walls but still allowing winter daylight in through a high window. And I love the cat, Daydra, who was modeled on Phaedra, one of my cats at the time.


---
Rasong on Pilgrimage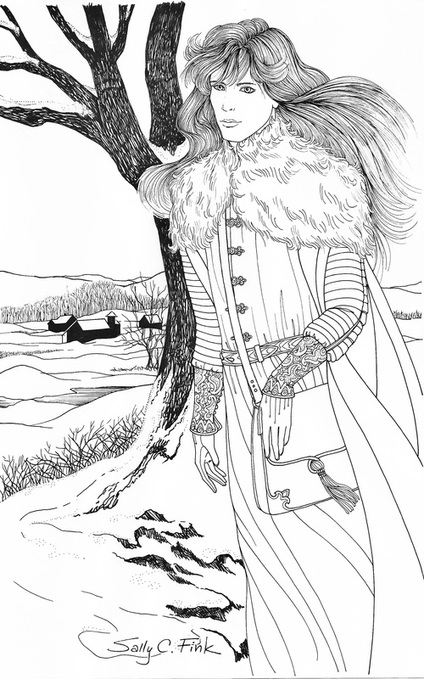 This scene takes place as Rasong has left the Kherlyndir farm (buildings in the background) after meeting Vilian for the first time. Originally Rasong was on foot though in subsequent rewrites, I gave the Lalloure a thorss to ride.

Rasong is thinking about its encounter with Vilian and vows to return to see her one day, not knowing that Vilian will come seeking the Lalloure instead.

---
Losellein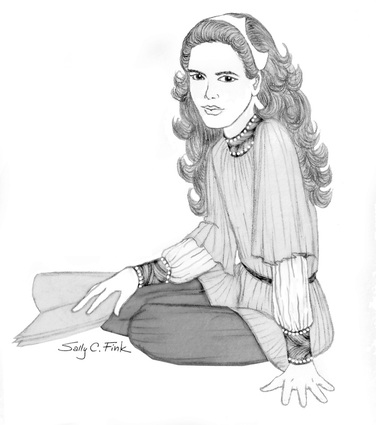 This illustration captures the line in chapter 5 of Ten Thousand Gods when Rasong enters the creche at Darclonen after having been away for a year: But the biggest change was in Losellein who glanced up and smiled as Rasong approached the group.

Losellein is a fourteen-year-old Loray in this depiction, and still resembles a young girl, though its jaw has started to broaden and shape into that of a Lallourean adult. Straight hair is easier to illustrate than curly hair, so Losellein is one of the few characters I've drawn with curls.





---
Bredes and G'tita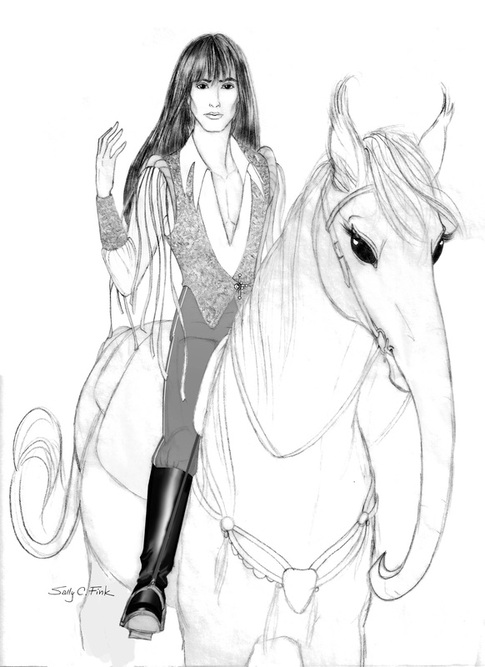 This sketch depicts Bredes on its favorite thorss G'tita. Bredes has just answered Rasong's question about where did it learn to ride so well with an "I don't know," and a shrug. As this scene takes place on the way to Sweetwell for the Loray collection, Bredes is wearing the outfit D'lyr picked out for it, a blue and silver brocade vest, white silk shirt and blue breeches piped in silver.
---
Thorss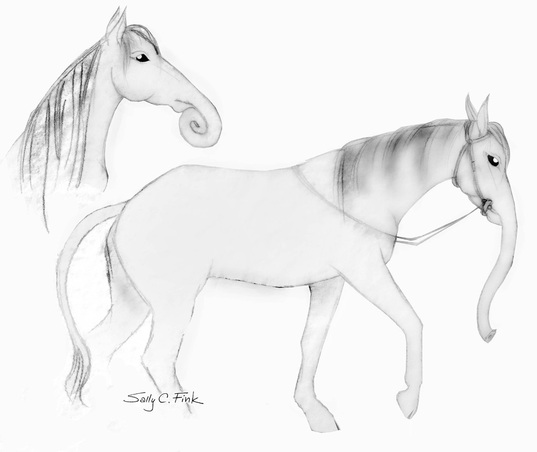 When I asked a farrier friend how one could improve on the horse, he said, "Give it a hand." So the thorss acquired a trunk, which it curls up when trotting and running. He also told me that nature had dealt the horse a bad deal when its hoof evolved into a solid cuticle from the original cloven type of its ancestors. So the thorss got cloven hooves. And I added a larger cranium, the whip tail of a donkey, large eyes, and a strong, compact body.

Though this agricultural planet is mostly mechanized, I figured farmers would still need—or at least want—a horse-like animal. And once the planet loses all power, the thorss becomes essential for both farming and transportation. The thorss was also genetically engineered to have greater intelligence and to be easily trainable.

Incidentally, the name of this creature in the first drafts of my novels was "ketalet." During the last rewrite prior to publication I changed it to thorss, or trunk horse, which made more sense.

---
Lhro H'non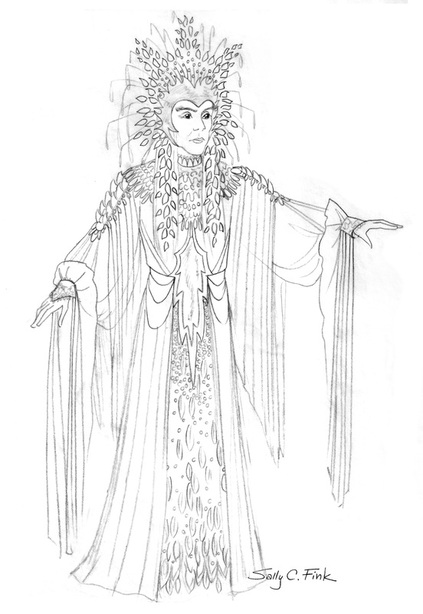 This is a sketch of Lhro's Harvest Hall garb, described in the book: Lhro H'non appeared at the crest of the tallest hill in Fairforest, resplendent in the beaded, beribboned red and yellow harvest robes. A headdress of beaten gold leaves sparkled against its snowy hair. The costume is further described as consisting of three robes, ten pounds of headdress, two waistlets, necklaces, ribbons, wires, ruffles and a lot of quartzle (rhinestones).

This also gives you an idea of what an elderly Lalloure looks like, somewhat like an old woman. Lhro is 562 years old in this depiction.


---
Greyen Kherlyndir and NicNel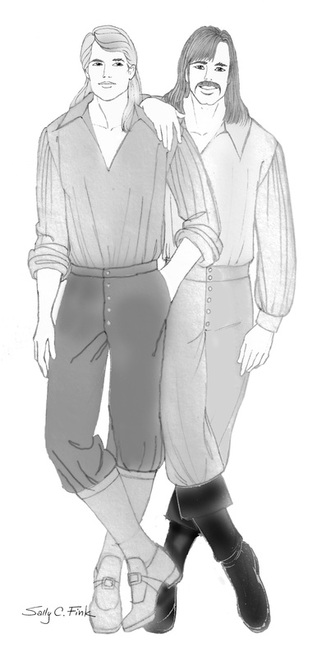 Greyen, blond on the left, is Vilian's older brother and the middle child of the Kherlyndir family. He leaves home at age sixteen to apprentice as an artist at Talanae Poth's studio in Paderbyrn. It's here that he meets NicNel, the other journeyman artist at the studio, and falls in love with him.

NicNel, dark hair with mustache on the right, is one of my favorite peripheral characters. I just Iove NicNel! He is so fey (my word for gay in the novels), so effervescent and so much fun, he's the epitome of my fantasy of the perfect gay man.


---
Rasong's Courtesy Masquerade Costume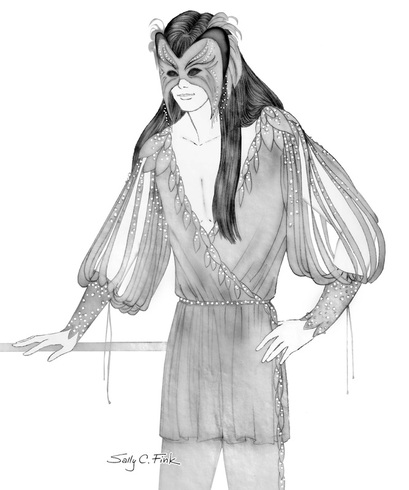 Vilian designs and makes this tunic after seeing the slashed sleeve treatment in a fashion sketch at Darclonen's Silk Clearinghouse. She also purchases the blue silk for the tunic at the Clearinghouse, thinking that the color matches Rasong's eyes perfectly. Once she meets Rasong the second time, she knows that she began making the tunic for the Lalloure.

(Having made slashed-sleeve medieval garments, I know the amount of work that went into this. And Vilian had to sew all those little gemstones on by hand. I glue mine and even that takes forever!)


---
Vilian's Courtesy Masquerade Costume

Rasong originally made this rose silk tunic with gold couching and faceted quartzle gemstones to show off its embroidery talents for the Lallourean holiday of Solsarem. Echoing Vilian, Rasong knew the tunic was for her once it had met her again.

Rasong also made the mask and the one it is wearing in the picture above. When Vilian wears her mask and tunic at the Courtesy Masquerade, the Lalloure she meets think she is one of them.


---
Vilian and Rasong, Binding Rite

As Rasong is about to cut Vilian's lovelock during their Binding Rite ceremony, Vilian gazes at the Lalloure with such a look of love that I'm always amazed I was able to convey such an intensity of feeling with a few pencil lines.

Their caftan-like gowns are aqua brocade with rippling white sleeves trimmed in silver.


---
After the Fire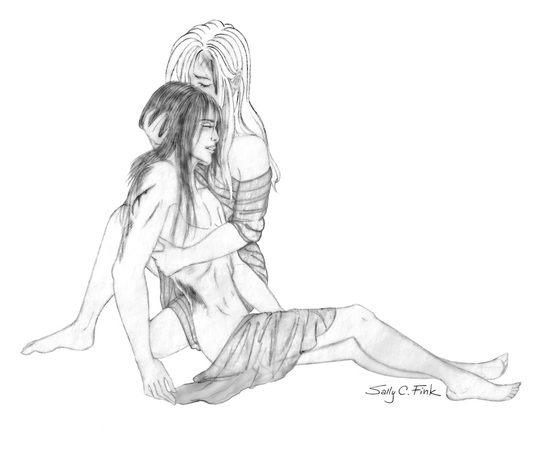 Vilian holds the unconscious Rasong in an intense healing circle. (Too many potential spoilers for me to say much more about this sketch.)
---
Provocateurs Costume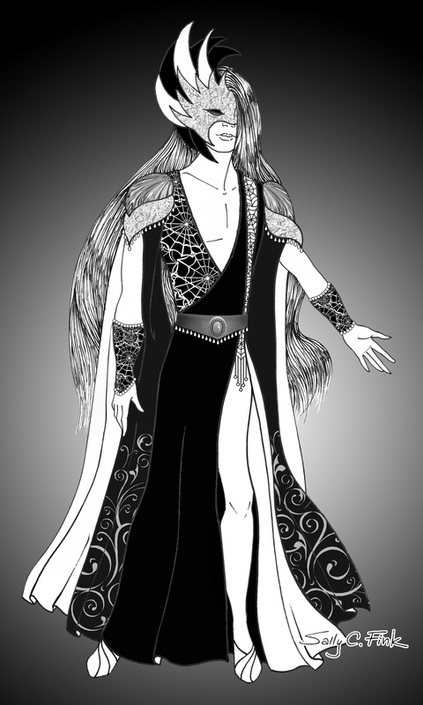 Losellein's design sketch for a costume for Rhninen for the Lallourean holiday of Provocateurs, a masquerade. The black gown was long with draping panels of midnight blue and silver. Hanging sleeves trailed on the floor, dripping with intricate silver medallions and beaded strings. Slashed from neck line to hem on the left, the gown was only held together with a spidery network of embroidery over the waist and chest.

I recently redrew this from an old rough sketch, then rendered it in Photoshop. The more I added, the more I realized that Losellein really likes overdone costumes. But Losellein's taste is, in actuality, very Lallourean, and to Lalloure this would be considered a stunning design. Each to their own!

---