Artwork for Gods of Crystal, Gods of Dreams. Some of it does appear in the book, but much of it only appears here.

---
Illustrations from Gods of Crystal,
Gods of Dreams

---
M'pelanae and Crechelle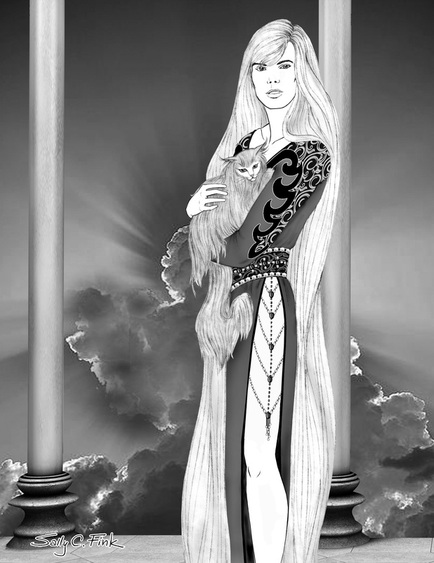 M'pelanae H'non as Rasong, Vilian and Bredes meet it the first time in Glaceglitter Hall at Bir Halake. Crechelle is a silkit, or extremely long-haired, cat, and specially bred by the Lalloure to thrive on plant instead of animal proteins.

I almost used this sketch idea for the cover, but even though Tristan Alexander made several preliminary layouts with it, the results were not dramatic enough for my liking.


---
Dinner with the H'non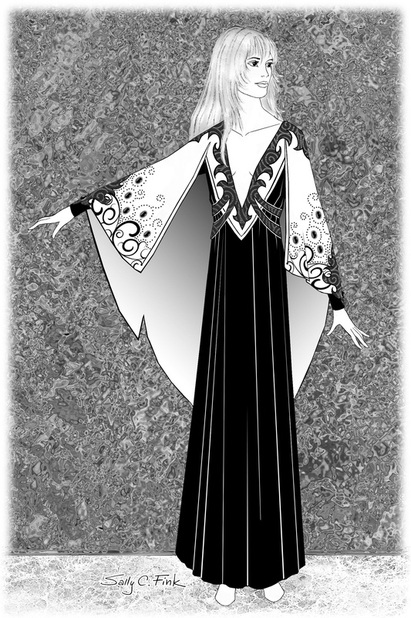 This is the gown M'pelanae provides for Vilian to wear to their dinner together. When Vilian arrives at the H'non's quarters, she is surprised to find M'pelanae wearing the same outfit, though with the colors reversed. Vilian's costume is described as a dark purple robe with cuffed sleeves and a rich red collar/cape combination embroidered in gold thread and set with amberite cabochons.

This is one of those costumes I would love to see in reality. Since re-rendering it in Photoshop, I now envision the under gown in purple velvet, the collar/cape in hammered gold satin and the textured bits in dark red brocade. Purple cabochons, purple rhinestones and lots of swirly embroidery on the sleeves.

Since I trained as a fashion illustrator back in the 1970's, many of my sketches still reflect those kinds of poses.


---
The Bathing Pool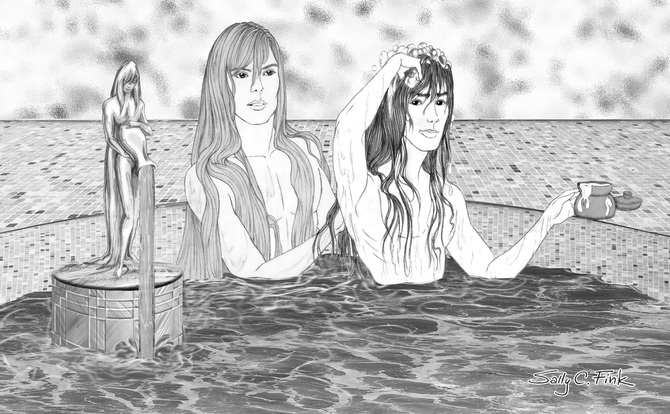 You said you were raised by humans. I expected some differences about you. Not in your appearance, but in your demeanor perhaps.

M'pelanae has just made this comment to Bredes. Note Bredes' disconcerted expression.

Old sketch, extensively re-rendered in Photoshop. I've always loved the sensuality of this drawing—the Lalloure's wet hair and skin, the movement of the water, even the liquid soap oozing out of the jar. And the fact that M'pelanae is one minute away from seducing Bredes for the first time.


---
M'pelanae's Loray Welcome Gown

Vilian looked up to see M'pelanae poised in the doorway, a porcelain statue swathed in azure and silver silk. A draped panel hung over one arm and fell from the opposite shoulder to the floor. Swirls of crystal beads and embroidery covered the gown from neck to hem. M'pelanae's hair had been arranged in loops and braids over a filigree headdress of burnished blue metal.

Silk and beads and embroidery, oh my! The Lalloure do have some gorgeous clothing. And since I love headpieces, I gave M'pelanae a very fancy one constructed of lightweight metal, curly bits and spider pearls.



---
Trillisay and Glyniri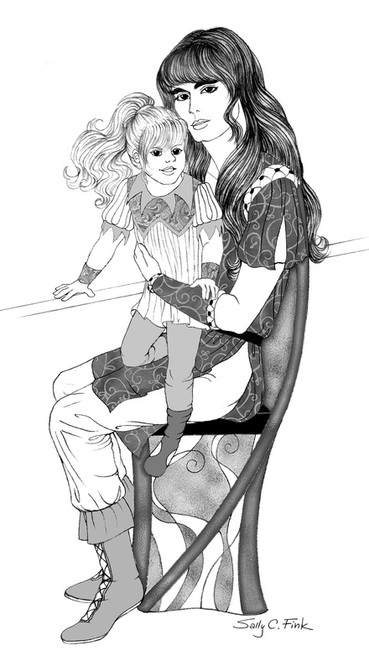 Bir Halake's two Lorays, Trillisay and Glyniri, as Vilian first meets them. Trillisay holds the wiggling Glyniri protectively, not all sure about this peculiar Vilian who has just been welcomed into Bir Halake.

I remember when I first drew this sketch, I was thinking that Glyniri insisted it be dressed similar to Trillisay that morning, down to the soft cloth bracers on its little wrists.



---
The Fitting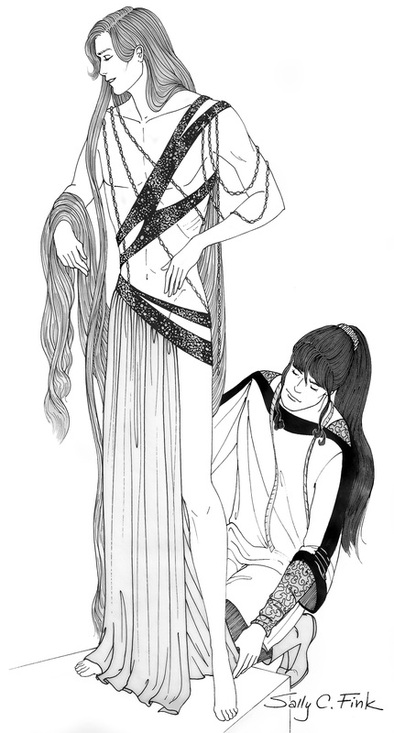 Rasong fits M'pelanae's finale costume for the play "God of Crystal." M'pelanae was only too happy to get out of a boring meeting for this, and is about to ask Rasong a pointed question regarding Vilian.

For you continuity watchers, yes, Rasong's hair is much too long in this illustration. I took artistic license.


---
Trillisay's Firstlove Costume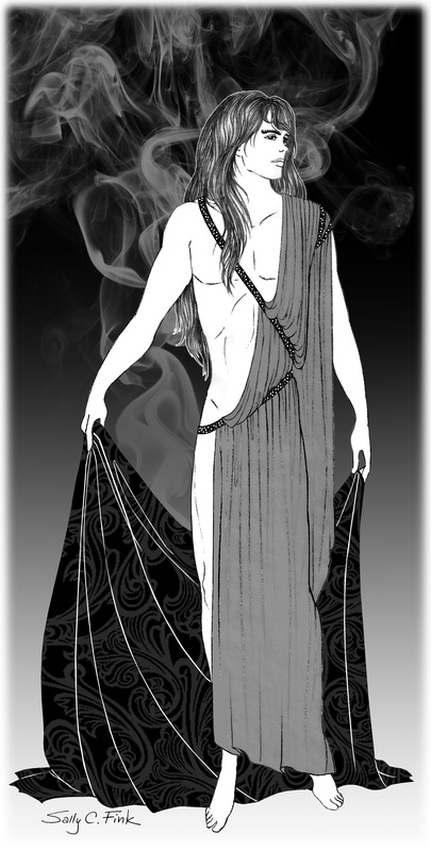 Smoke from a drowned candle curled behind its head. Soft flicking shadows played over its sculpted face, its thick curling eyebrows, smoldering eyes and full, round lips. Vilian was breathless. Never had she seen such a sensual, sultry vision. Everything that epitomized Lalloure was standing before her—impossibly perfect youth, savage beauty, dangerous desire.

I admit it: everything about this sketch and the scene makes me hot. I've often longed to actually be Vilian, but never more so than at this point.

---
Ahri from the play "God of Crystal"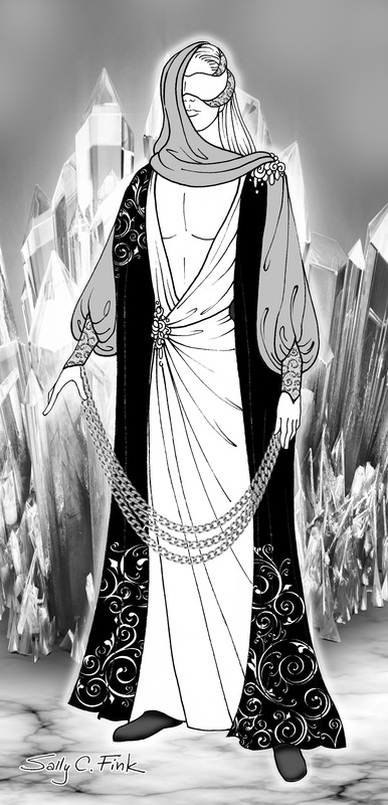 The costume M'pelanae designed for itself as the lead character Ahri in the play "God of Crystal." M'pelanae took much artistic license with the costume, as the author of the play had specified the character would be wearing white rags at this point.
This is a recent drawing of mine. A colored version in a more dramatic pose by artist
Tristan Alexander
appears on the cover of
Gods of Crystal, Gods of Dreams.
---
The Mark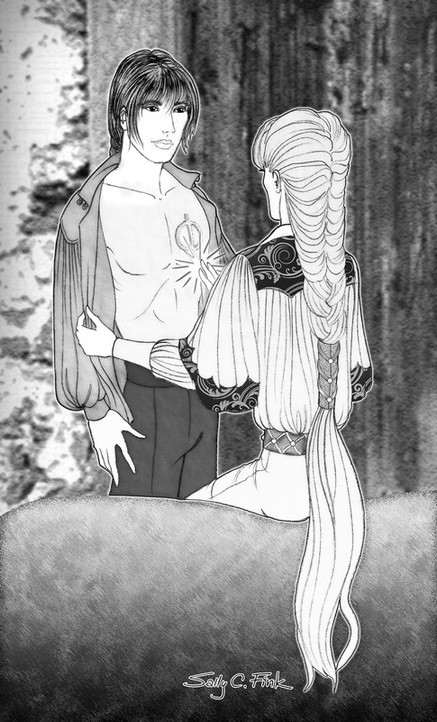 As part of a ruse, M'pelanae had raised a mark on Bredes' chest: a circle with a line through it, an ancient symbol for Lalloure. M'pelanae is now in the process of removing the same.

Bredes is in disguise as a human boy at this point, hence its plain shirt and pants in contrast to M'pelanae's more fancy Lallourean clothing.


---
The Pleasurie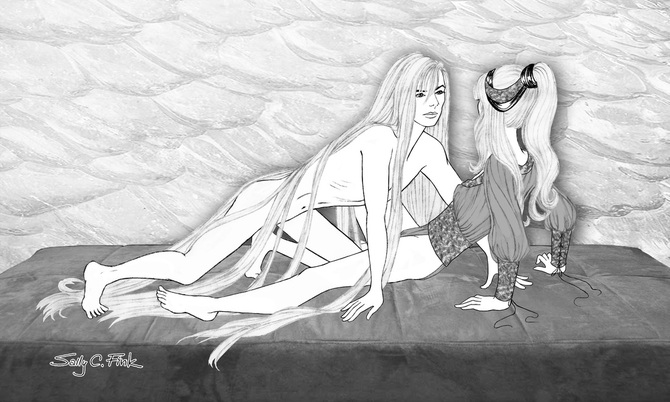 At the pleasurie before Harvest Hall, M'pelanae attempts to seduce Vilian for the second time. As this is a public Lallourean venue, Vilian reacts in a very typically human manner.

Yes, I deliberately fig-leafed M'pelanae with its own hair in this sketch. Though there is really nothing to see, the concealment seemed more erotic to me.


---
Provocateurs Costume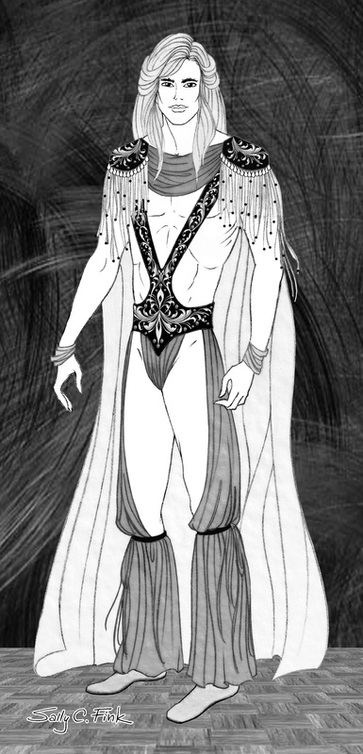 Provocateurs is a Lallourean masquerade where the participants refrain from speaking or sending, communicating with simple sign language instead. At the end of the festivities and dancing, the Lalloure pair off and unmask in private. It's considered quite lucky if the lover one has chosen for the night is new, for the purpose of Provocateurs is to pleasure with someone one might not have otherwise considered.

The Lalloure in the sketch is Teshlyon, a Lalloure at Bir Halake who befriended Vilian.


---