2000 foliate sleeve italian 1400's

More an interpretation rather than a historical recreation. I had a gorgeous purple cotton damask and a luscious open-work gold trim that I wanted to use, plus I wanted to make the foliate hanging sleeve which I'd seen in a sketch. I cut them from Ultrasuede because I detest frayed edges and there was no way I was going to line and turn them. (I am not that much of a masochist.) The bodice frontspiece was a bit of decorated brocade edged with fancy trim.

The accompanying hennin—this one nicknamed Brainiac—was made on two buckram bases, an inner one that fit my head and an outer one which had been stretched over a balloon. I decorated it with a padded roll, chiffon veil, ribbons, pearls, cabochons, beads, gold findings and a brooch at the center front.


2001 Italian Renaissance gowns 1500's

| | |
| --- | --- |
| At right is another gown in the same style but with tabbed instead of puffed sleeves. This one was made of a heavy brushed cotton that looked amazingly like wool. | The components of the above gown included teal Dupioni silk, silver tissue, beaded trims, ribbons and beads. I normally use gold as my contrasting metal color but I had gotten yards of the silver and teal jacquard trim at an SCA event a few years before. And besides, silver looks better with blue anyway. I had stopped wearing corsets after the big Elizabethan and now just boned my bodices. This was still working at 49, my age in this photo. |
2003 devonshire houppelande 1400's

Bought the steely lavender rayon damask yardage in Philadelphia in 2003 with a houppelande in mind, but when I started working with it, I realized the hand was much too soft to work on its own. So I flat-lined each body piece with muslin and hung it for a few days to allow the rayon to "grow," which it did, prodigiously. The collar and sleeve linings were a stiff white damask, and the sleeve dagges wanted to grow over that as well. My fix was to use watered-down fabric glue to adhere the sleeve fabric to its lining.

Another fancy two-horned buckram hennin with a stiff, lined, dagged veil, a highly decorated folly collar and a brocade belt to complete the outfit.


The gown was based on those from the Devonshire tapestries in the Victoria and Albert Museum in London; the headpiece on one from the Heroes and Heroines fresco in the Manta Castle in Italy.
2004 Elizabethan loose gown and kirtle 1500's

I was getting beyond the point where I wanted to wear anything constrictive, but I still loved late period Elizabethan clothing for all its embellishment. I documented A-line kirtles from the 1500's and also plenty of loose gowns from England, Germany and Italy. This ensemble was constructed of a beige damask I dyed soft magenta for the loose gown; bengaline and gold trim for the kirtle; stamped velvet for the kirtle sleeves; a gold printed cotton for the partlet (blouse); and brocade with lots of pearls and findings for the pillbox hat. (Yes, the hat is a 1500's period shape—Jackie Kennedy did not invent it in the 1960's.) As I had just recuperated from carpal tunnel surgery on my right wrist, I was able to stitch over 1,000 pearls and gold beads on the stamped velvet sleeves.


2005 ELIZABETHAN LOOSE GOWN AND KIRTLE 1500'S

| | |
| --- | --- |
| | I liked the first loose gown/kirtle combination so much I made another the next year, this time using a stamped purple velvet for the loose gown and a purple cotton damask and window-paned gold fabric for the kirtle. The front of the kirtle was decorated with trims, carved stone beads in the shape of roses, pearls, cabochons and findings. I made the carcanet, the gold aglets on the shoulder rolls, and of course the ostrich feather trimmed tall hat with its beaded hat band. |
2006 ELIZABETHAN CUTAWAY GOWN 1500'S

| | |
| --- | --- |
| Scarlett O'Hara has nothing on me as this cutaway loose gown was made from curtains I purchased from Brylane Home online. (Also purchased a bedspread in the same fabric which I actually use as a bedspread.) I just loved the fabric which resembled cut velvet. Used two kinds of trim, the gimp outlining the jacquard, for a rich look. And I made the gold wrapped buttons, though purchased the gold frogs. Another carcanet, much more ornate, made from buttons, pearls, rhinestones and stretch bracelet components. | |
2006 ELIZABETHAN LOOSE GOWN AND KIRTLE 1500'S

This style was fast becoming my favorite SCA clothing, mostly because it was so comfortable, relatively easy to make and I could use fancy fabrics and do fancy sleeves.

The fabrics were a gold and dark red woven satin, muted gold brocade kirtle and satin sleeves trimmed in gold gimp and decorated with hundreds of real freshwater pearls stitched on by hand.



And I finally impressed the SCA powers that be enough that I was given my writ for elevation to the Most Noble Order of the Laurel at an event on April 22, 2006, when I was wearing this outfit.
2006 ELIZABETHAN LOOSE GOWN AND KIRTLE 1500'S

I had been collecting fabrics for my Laurel elevation garb for years and had a number of yardages in my stash. I finally settled on a bluish purple brocade trimmed with metallic brocade in two widths for the loose gown, iris linen for the kirtle, embroidered linen that I embellished with pearls for the sleeves. I trimmed the kirtle with metallic and gimp trim, pearls, beads and small gold bullion laurel wreaths. I had a friend embroider large gold laurel wreaths on satin that I then cut into ovals and appliqued to the bottom of the loose gown. Several years later I removed these.

And on July 15, 2006, I was elevated to the Most Noble Order of the Laurel, given the title Mistress and was now and forevermore a Peer in the Society for Creative Anachronism.


2008 oriental kimono 1400's


Our local 12th Night had an Oriental theme in 2008 including food, decorations and of course clothing. I made an angel wing, closed-front gown instead of an open kimono from a purple and gold silk-rayon blend. The white-gold undersleeves were repurposed from an old defunct Tudor gown. I managed to find literally bits of the same fabric in my stash for the front placket and mandarin collar of the blouse. I found the softly pleated dark gold underskirt fabric at Wal-Mart of all places.



2009 Italian Renaissance 1500's


Heavy drapery cotton for the gown, pink rayon for the chemise and sleeve trimmings. I machine-embroidered the blackwork for the top of the chemise and cuffs and finally figured out ladder-lacing for the front of the heavily boned bodice. The bits at my shoulders are pearl-trimmed drapery sheer.

The fancy sleeves were cut in four long strips, folded over at the tops, then applied to an undersleeve of muslin and Ambiance Bemberg rayon lining (which is so slippery, it's one of the few fabrics I really hate working with). I machine stitched the strips down to the rayon and muslin, leaving two inches of rayon sticking up between the strips, then sewed pearls onto the rayon to make poufs. I added gold edging to the dark burgundy chenille trim for a bit of sparkle. The pink poufs at my shoulders were separate pieces that were hand-stitched to both the gown and sleeves. Then the sleeve was stitched to the garment with heavy thread through pearls and gold doodads in three places along the top of the armscye.


2010 loose gown 1500's

| | |
| --- | --- |
| Another open-front loose gown, this time from a pink and beige damask. The only time consuming part of this style is the back pleating which has to be done before that pattern piece is cut. When the gown fabric has a symmetrical pattern, such as this one, I could take entire day to get the pleating right, pin and stitch it temporarily and then carefully cut it. The inside view shows how the pleating is stayed with a strip of hand-stitched tape. | |
2010 elizabethan loose gown and kirtle 1500's

Another of the same, this time summer garb made of printed cotton for the loose gown and linen for the kirtle. I machine-embroidered the laurel wreaths on the gold printed sleeves, plus made the brooch at the front of the gown and the very fancy gold, pearl and stretch bracelet findings carcanet.

The second time I wore this outfit in 2011, I was made a member of the Most Noble Order of the Pelican. I hold the distinction of being the first double Peer in my local barony.


2011 elizabethan closed front loose gown 1500's

Heavy gold and velvet brocade upholstery fabric that tightened up and actually became more three dimensional after I washed it. (I wash all my fabrics before making my costumes.) Purchased buttons this time.

This is a comfortable and warm style for winter events and it really doesn't matter what you wear under it.


---
elizabethan tall hats 1500's

Various tall hats I've made over the years and probably the reason I was finally given my Laurel back in 2006. These were made from silk, velvet and corduroy and feature feathers, pearls and beaded trims. The basis of these hats is either cardboard and buckram, or in the case of the velvet one with the purple feather, blocked and steamed wool felt.


snoods 1500's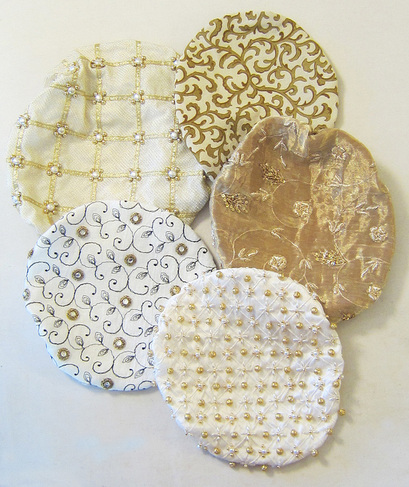 Various snoods I've made over the years. Clockwise from top left: ribbons and net over cotton, embellished with flat pearls and beads; printed cotton; gold bullion embroidered silk; window-pane silk embellished with beads and pearls; embroidered linen with rhinestone findings. After I cut my mid-back length hair to a gamine style in 2010, these stay on my head much better, even without bobby pins.


---