sock bunnies

Even though I didn't play much with dolls when I was a kid, I became interested in soft-sculpture dolls in the 1990's. I made a number of sock bunnies during this decade using white tube socks. The Lady Bun-Bun series was made to illustrate clothing of the medieval and renaissance period for various SCA demos. They were much easier to transport than full sized costumes on mannequins. For each one, I did something different to the ears to simulate hair or headwear.


1992 Bun-bun pinky


A Christmas present for my mother with a lace-over-cotton gown and a flat hat covered in roses and ribbons. Mother made the tiny bargello bodice.


---

1997 lady bun-bun elizabethan





The damask fabric of her gown was dyed a light burgundy to match the velvet ribbon used for the overskirt guard. Her ears are wound up in back and covered with a net snood.

---

1997 lady bun-bun houppelande


Yes, I actually lined and turned all those little dagges on her sleeves. Her ears are inside the two-horned hennin.


---

1997 lady bun-bun
sideless surcoat


Velvet, brocade and damask sideless on top of a cotehardie (undergown). The tiny pearls represent buttons on the tight sleeves. Her ears are tightly wound inside the cauls of the headpiece.

---

1997 Lady bun-Bun angel or Fairy


The wings are window screen glittered on both sides. Her ears are big, poufy hair.


---

1997 lady bun-bun ghawazee


This style of tribal Middle Eastern dance costume is very popular in the SCA and even I had made myself several versions. Her dance belt is a bracelet and her ears are wrapped into a turban shape.

---

1997 lady bun-bun
italian renaissance


Very Juliet with paned, puffed sleeves, a jeweled bodice, decorated cap and even a ferronière. Her ears hang down her back like long hair.


---

2001 lady bun-bun elizabethan


Much fancier and more detailed than the first one. The overskirt is cartridge pleated, the bodice stiffened and tabbed at the waist and shoulders, the bodice and underskirt are heavily jeweled and decorated. I machine embroidered the blackwork on her partlet blouse and made the tiny, peacock fan in her paw. Her ears are spiral curled inside her heart-shaped coif.


---
2005 the seasons and the elements

Mother and I had four joint displays at our local community arts center. The one in 2005 was titled "When Costumes and Quilts Collide." We each made our interpretation of the four seasons and the four elements in our various art forms: mine, dolls and hats; Mother's, quilts.

THE ELEMENTS DOLLS

The dolls began as headless and armless styrofoam mannequin bodies purchased at a local fabric store. My father made new bases for each one. The heads are sculpted styrofoam and paperclay with painted fabric coverings. The hands and arms are soft sculpture articulated with pipe cleaners. Each doll took around two months to complete. I let the designs evolve from the materials I'd collected and the flow of the work as I went along. Water and Fire were easy to visualize, though Earth proved a bit harder. Air was the toughest of all since you can't see air, only what air does. But I was pleased with the finished results, especially the mix of colors on each one and how the faces epitomized each character.
AIR

| | |
| --- | --- |
| Face: vapid and airy-fairy. The doll was constructed to look windblown with a swooped gown, flowing ribbons and billowing net. The hair is a cloud releasing crystal drops of rain and beads of snow, the wind wings swirl with pollen and seeds, the entire figure is covered in butterflies—a double winged purple one is suspended between the hands. | Features four yards of hand-made ruffles. Fabrics and materials include brocade, netting, iridescent chiffon, lace appliques and Christmas garland. |
EARTH

Face: motherly. The folds and wrinkles of the gown and the colored, rippled print of the cape represent the layers of the earth. The leaves, grasses, vines and tree trunk grow from the earth. Minerals form in the earth layers and gems sparkle in the darkness of the cape lining. Features 500 velvet leaves, beaded vines and a hand-made brooch. Fabrics include velvet, velour, cotton and metallic. The cape and gown fabrics are vintage, circa 1970's. The hair is curled ribbon simulating wood shavings.
FIRE

| | |
| --- | --- |
| Face: wicked. The drama of fire is represented in a profusion of red and gold flames and the black of smoldering coals. Features picot beading along bodice edges, wired "sparks" flying from the headpiece, a heavily decorated forepart and a large framing frill in back. Fabrics and materials include lame, eyelash, stiffened lace, PVC vinyl, brocade, metallics, beaded trim, beads, sequins, rhinestones, metal findings, filigrees and pieces of disassembled stretch bracelets. | |
water

| | |
| --- | --- |
| Face: serene. Splashes and ripples, waterfalls and waves, foam, bubbles and droplets. The glint and sparkle of light, the reflections and flowings—all this is water. Features air brushed satin, hand-beaded strings on arms and gown, heavily rhinestoned headpiece and collar. Fabrics and materials include ribbed satin, Ultrasuede, metallics, beads, rhinestones, plexiglass rods, rocailles, sequins, beaded trim and many yards of ribbon. | |
the seasons hats

Each hat took from 1 to 2 weeks to construct. All the lace was hand-dyed and most of the beading was hand-done. I made all the flowers and the leaves. Each hat features some kind of beaded wire, an animal or insect and something purple (but you have to look really closely at Winter).


spring

| | |
| --- | --- |
| | Represents a bud and the first unfurlings of new growth. A dome hat of stretched buckram, it features a beaded inset of purple cabochons and gold beads, beaded curled wires, lily-shaped filigrees, tufts of beaded trim, beaded pins, scallop trimming and a sparkling purple butterfly. Fabrics include Dupioni silk, lace, satin ribbon, netting and tissue. |
summer

| | |
| --- | --- |
| | Represents the lushness of summer with red roses, purple begonias and green foliage. I started with an old wool felt hat, split the brim in back and partially cut it away from the crown, then curled it into two "vases" at the sides, one pointed up and one down. Features twenty roses made from five different fabrics, eight wired ribbon begonias, beaded lace, embossed velvet leaves, tiny ladybug beads and purple and gold beaded stickpins. Fabrics include Dupioni silk, mottled print cotton and reds of satin, brocade, metallic and cotton. |
fall

| | |
| --- | --- |
| Represents the harvest and colorful foliage of autumn. Hat crown and brim are both wired buckram; brim was tightly curled on sides and cantilevered off center on the crown. Sparkling fruit cascades from a cornucopia, golden maple leaves waft down the front and grasses droop with a bounty of seeds. Features 50 embossed velvet leaves, hand-made cattails, curled beaded wires and a small bird on which I applied all the feathers. Fabrics include leaf-print cotton, low sheen metallic, velvet, velour and Dupioni silk. | |
winter

| | |
| --- | --- |
| | Represents the snows, ices and whites of winter. Double brimmed hat; lower brim and crown are a straw hat, upper brim is stretched and wired buckram. Features sixteen beaded and rhinestoned snowflakes (most on underside of upper brim), beaded and sequined wires, and a dove that I re-feathered. Fabrics and materials include ribbed satin, eyelash, fake fur, tinsel yarn, sparkle chiffon, Christmas ornaments, crystal beads and buttons. |
2007 art to wear

got 'em in autumn


This simple cardigan-style jacket explodes with the colorful frenzy of autumn. The huge collar and cuffs evoke piles of raked leaves and fall flotsam of grains and berries. Leaves are machine embroidered lace and hand-embossed velvet.



---

my pluperfect passion of purple


My absolute favorite color in all its variegated glory. The lapels and cuffs are velvet which I embossed with an acrylic stamp and then over-embroidered with variegated thread. The fullness of all the godets makes for a very flouncy, fun jacket.


---

nutters for flutters


Found the butterfly print fabric first; everything else evolved from that. Machine embroidered lace butterflies, some with Swarovski crystals, dance over the fluttery, godeted jacket.



---

rife with renaissance


The fabric and the trims are remnants from historical garments I've made. Several of the fabric motifs are over-embroidered with gold thread; the trims were sewn down on a muslin backing first and then cut out for the front and back pieces. The blouse peeking at the neck is a period dickey, worn in the 1500's and called a partlet.

---
azure and argent

| | |
| --- | --- |
| Harkening back to my fantasy costuming days, this mermaid hobble gown, long shrug and rich collar epitomize my love of beads, baubles, gauze and glitz. I used the reverse, but much shinier, side of a dull silver fabric with metallic squiggles for the gown. The hem and sleeves are decorated with dark blue cabochons and lighter blue rhinestones, plus dark blue dyed lace. The collar is beaded trim applied to a bib. A historical influence is found in the Elizabethan ruff, modernized by the fun fabric and slashed edges. | |
2006 carcanets and roses

More modern versions of Elizabethan carcanets, or necklaces on ribbons. And a bunch of fabric roses, some with picot beaded edges. The larger ones have pinbacks for use as boutonnieres.

2014 Masks and coronet for 12th Night

| | |
| --- | --- |
| The theme of our 2014 12th Night was "Masked Ball" so of course I had to make masks. The gold and white one above was already painted, but I added a lot more to it including the sequins, rhinestones, fleurs and gold lace frill at the top. The full face one at the right was made from a mask blank which I covered with pale gold brocade fabric, edged in gold lace and to which I applied sequins around the eye holes, tiny gold fabric roses and bullion laurel wreaths. I wired on two filigree metal masks, also a Christmas decoration at the top that I further embellished with metal laurel wreaths and a fancy button. The back was covered in crinkled gold tissue paper. | |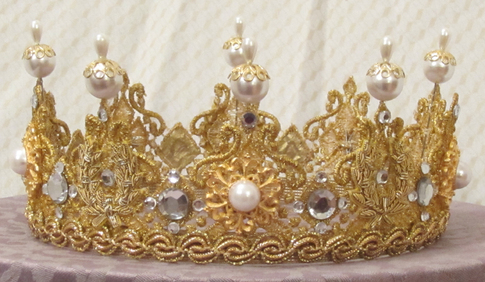 I saw a tutorial on the internet about making little lace crowns for girls. My larger version is gold lace soaked in Stiffy and allowed to dry around a wax-paper covered posterboard circular frame. I gave it more stability by gluing a piece of Rigilene on the inside at the base, then added the pearls, rhinestones, bullion laurel wreaths, trim and fancy filigree bits. Came out very fancy and very lightweight and I finally have my Laurel Coronet.
---
2000 bargello jacket, tribute to mother

Though this part of the website is dedicated to my costumes and clothing, I had to include this jacket Mother made for me. I picked out the fabrics but she made this gorgeous, amazing jacket using a quilting technique called bargello, which is based on needlepoint patterns of the same name. My mother was a seamstresses, tailor, milliner and quilter. During her lifetime she had sewn everything: men's suits, slips and girdles, bathing suits, blouses, dresses, jackets, skirts, slacks, coats, buckram and cloth hats, slippers, purses, bags, cloth origami and she even had occasion to cover shoes. I picked up a tremendous amount of knowledge and technique from her and would not be the writer and costumer I am today without her unfailing love and support.