About the Author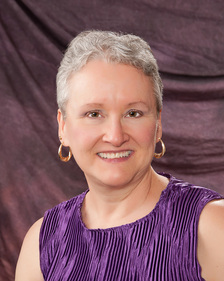 Sally C. Fink
Thanks for checking out my website dedicated to the Lalloure, the books in my first series,
Tales of the Lalloure
and my ongoing costuming history. Some of you visiting here may only know me as that costumer and/or an artist and might be surprised that I also write. Well, as they say, therein lies a tale.
Though I have been drawing since I could hold a pencil, and making costumes since my early 20's, my imagination has always been both virile and fertile and refuses be confined. When I drew pictures as a child, I made up stories in my head to go with them which I eventually started to write down. When I first started to design costumes, I often made up backstories for them. I've also kept various kinds of diaries, prolific journals, written hundreds of pen-pal letters in the pre-internet days, and thousands of emails since then. So writing has always been a large part of my life.
I came up with the idea of neuter humans in early 1988 on the way to an SCA event (Society for Creative Anachronism, medieval recreation group). I don't remember much about that event because I spent the weekend making notes and jotting down the story ideas that had exploded in my brain. Unlike my other writing efforts, this story thrust itself into my over-active imagination and demanded to be written. I spent most of the weekends of 1988 doing just that.
And of course when I finished the first novel, the story just kept going so I wrote the second one, and then the third. Twenty years later, I wrote the fourth book in the series and I am now working on the fifth, which will be the final in the Lalloure series.
I had an agent in New York city for about a decade, but he was not able to sell any of the Lalloure novels, and we parted ways in the late 1990's around the time when I became more heavily involved in the SCA. (I was first Baroness of my local group, the Barony of St. Swithin's Bog.) And for another 10 years I did nothing with the Lalloure or the novels. Then, in late 2011, my friend Karen Schnaubelt said, "Sally, it is time to self-publish these books and get them out of the three-ring binders and out in the world where people can read them." I talked to author friends, investigated the world of self-publishing and have now set my creations loose. If reactions of friends and readers, and sales at Amazon are any indication, it appears I have written stories people really want to read.
When I first wrote
Ten Thousand Gods
, I wrote it by the seat of my pants. I had not thought out the universe or the world in much detail and allowed them to develop as the story did itself. I'm not a pure science fiction or pure fantasy writer; my stories encompass both. I try to give things a quasi-scientific base, but then take liberties with physical laws. When I realized I had tapped into a rich, versatile universe with the pocket dimensions, I decided that any story I ever conceived would fit there. And trust me, there are at least two other series percolating in my brain. The next series will be called
The Phoenix Cities
and the first title
The Feathered Lady
.
You can contact me with your comments and reactions at
sallycfink@lalloure.com
---
---
Kaleidoscope the Series did an interview with me in March 2016. The video below is my section of the show. (One correction: the Small Fantasies show appeared at the Community Arts Center of Cambria County, not Southern Alleghenies.)

book signings




















My very first book signing was held December 1, 2012, at the Community Arts Center in Johnstown, PA. Pleased to say I sold six books, three to people I didn't even know.

---

My second book signing to promote the release of Gods of Crystal, Gods of Dreams was held at the Community Arts Center on Thursday, April 25, 2013. I sold four books, one of the first book in the series and three of the second.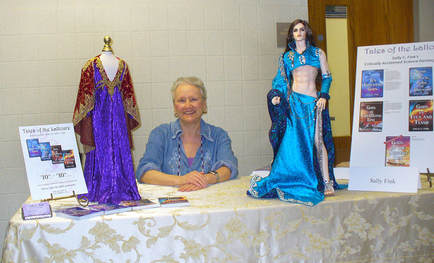 My third book signing at the Indie Author Fall Fest, Penn Highlands Community College, Johnstown, PA, October 7, 2017. I participated in this inaugural event with about 30 other independently published authors from many different genres.

Sold a couple of books, networked with other authors, talked to a lot of people, passed out postcards and business cards and participated in a panel discussion.

This was a lot of fun. Many people who stopped by knew me from my long history of costuming.

---